Selena Gomez Opens Up About Emotional New Music & Teases New Album
By Nicole Mastrogiannis
November 14, 2019
It's been four years since Selena Gomez last released an album. Since then, she's shared several successful collaborations and has kept herself busy in other projects in the film and television world, as well as in fashion. And although she's had a lot going on professionally, the multi-talented star has also experienced a lot in her personal life. All this has brought us to the release of her two newest songs, "Lose You To Love Me" and "Look At Her Now," and it's arguably the most vulnerable and soul-baring in her music that she's ever been.
Co-written with Julia Michaels and Justin Tranter, as well as Mattias Larsson and Robin Fredriksson (Mattman & Robin), with additional production from FINNEAS, "Lose You To Love Me" illustrates how a toxic relationship can cause you to lose sight of yourself. She sings, "We'd always go into it blindly/ I needed to lose you to find me/ This dancing was killing me softly/ I needed to hate you to love me/ To love love me/ To love love me/ To love me/ I needed to lose you to love me." Meanwhile on the upbeat, "Look At Her Now," Selena sings about becoming a stronger person having moved on from such a relationship. "Of course she was sad/ But now she's glad she dodged a bullet/ Took a few years to soak up the tears/ But look at her now, watch her go."
As she teased her new songs to fans, Selena shared a series of (very cute) baby photos, along with imagery from her new music video. On the significance of sharing the adorable snaps, she exclusively tells iHeartRadio, "The baby photos that I was teasing along with new images from what I was about to release, I knew that 'Look at Her Now' was coming right after 'Lose You to Love Me.' So it just felt like one of those moments where you could step back and say this is insane that I've walked through what I've walked through, and becoming who I'm becoming. And I know I'm not done figuring everything out, and I'll make more mistakes and all that, but it's so great to take a second and realize that and be proud that I've gone through a lot of things and I've come out the other side stronger."
Given the nature and lyrical content of her new songs, writing and recording the music has been therapeutic for Selena. She tells us, "We wrote 'Lose You to Love Me' in the beginning of the year, early, and that happened very quickly. I think emotions were high, but also settling at the same time, so I had enough strength to process it. And within maybe an hour, we wrote the song. It was amazing. I was just talking it out and it was becoming the song that it is. And then 'Look at Her Now' we did in the summer, and that was just for fun. I actually didn't know if that was gonna go anywhere. But, it was also just that moment where I genuinely felt it. So these songs could not be more true to where I was and where I am now. And that's a great feeling, as an artist, being able to tap right into where you are. And then it's just gone and then it's just released, and it feels amazing."
"Lose You To Love Me" and "Look At Her Now" may reflect Gomez and her personal journey over the last few years, but the lyrics are undoubtedly relatable to many. In fact, she says of some of her favorite lines in the songs, "My favorite lyric from 'Lose You [To Love Me]' would probably be 'Sang off key in my chorus/ 'Cause it wasn't yours.' That is kind of a perfect description of everything that that entails. It's a metaphor, but in general it's ... I feel a lot of women struggle with that when they're going through something, or people call them crazy, or you have to watch all this stuff happen to you. It's not fun, and it's hard, and I think that that's something I was really proud of; kind of just how I articulated everything." She adds, "And 'Look at Her Now,' [my favorite lyric is] 'She knows she'll find love when she wants it.'"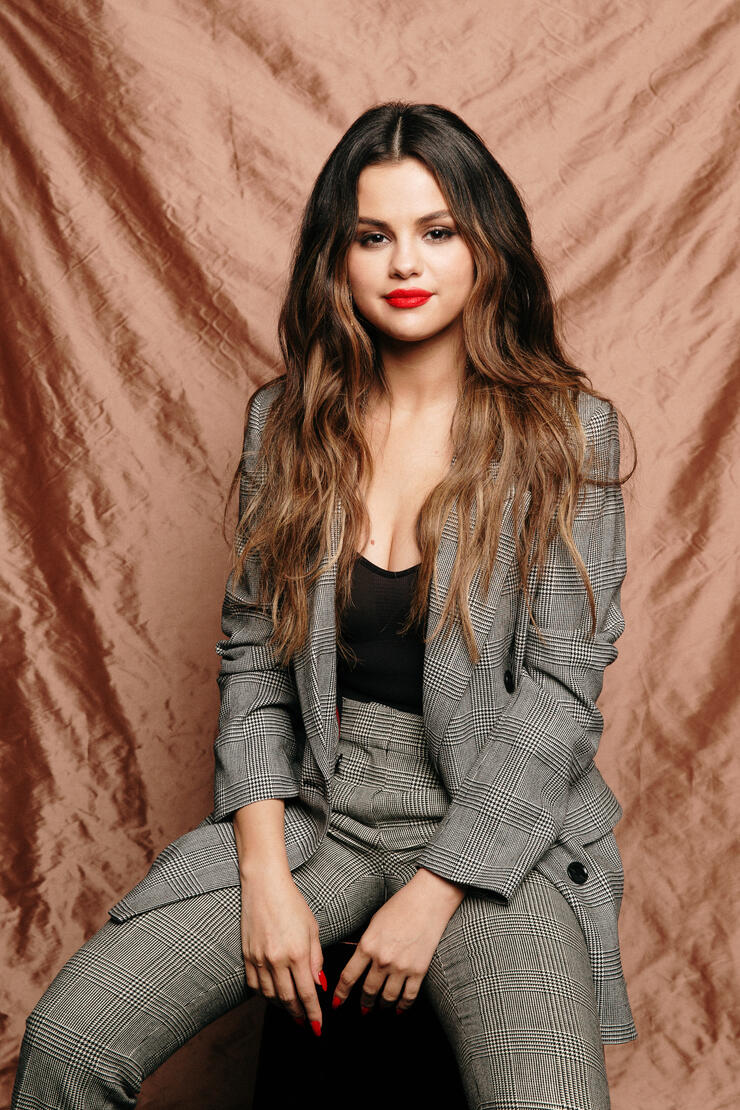 "Lose You To Love Me" and "Look At Her Now" are just the first taste of what's to come as Selena prepares to release her third full-length album, which follows 2015's Revival — and she can't wait for fans to finally hear it.
"I sound like such a nerd, but I cannot wait for this to come out," Gomez says. "It has taken a few years, and things that started in the beginning are solid and still a part of my record, and then some just came naturally and just ... it was so easy. I mean, I shouldn't say that. I was actually kind of a nightmare, but it was very easy to me when I sat down with the records and said, 'This is exactly how it's supposed to sound.' So, the other ones are different and fun. It actually surprised me, some of the stuff that I'd been able to be a part of. So, it's about vulnerability, it's about strength, having fun, not letting yourself stay in a dark place, 'cause I tend to do that a lot. If something happens, I tend to kinda sit in it. And I've gotten better over time [at] understanding that it's okay to feel it, but actually staying in it and pulling yourself back up again is one of the most rewarding processes."
That last sentiment is something that is reflected in one of her favorite songs on the album. Selena explained, "One of my favorite records is a song that's all about what I was explaining earlier — having that talk with yourself saying I'm not gonna ... and it's actually an upbeat song. It's a weird subject of saying I'm not gonna let myself stay in a negative space, but it's happy. It's more just celebrating that I don't wanna self-loath, and I don't wanna sit in that, and I wanna be able to express myself. So it's actually really fun, but that's one of my favorites for sure."
Gomez adds of the anticipation of releasing her new album, "I love when I am eager to put something out because it means so much to me. So I just want people to hear it. I want them to enjoy it, I want them to just care. That's all I could ask for, that's my goal."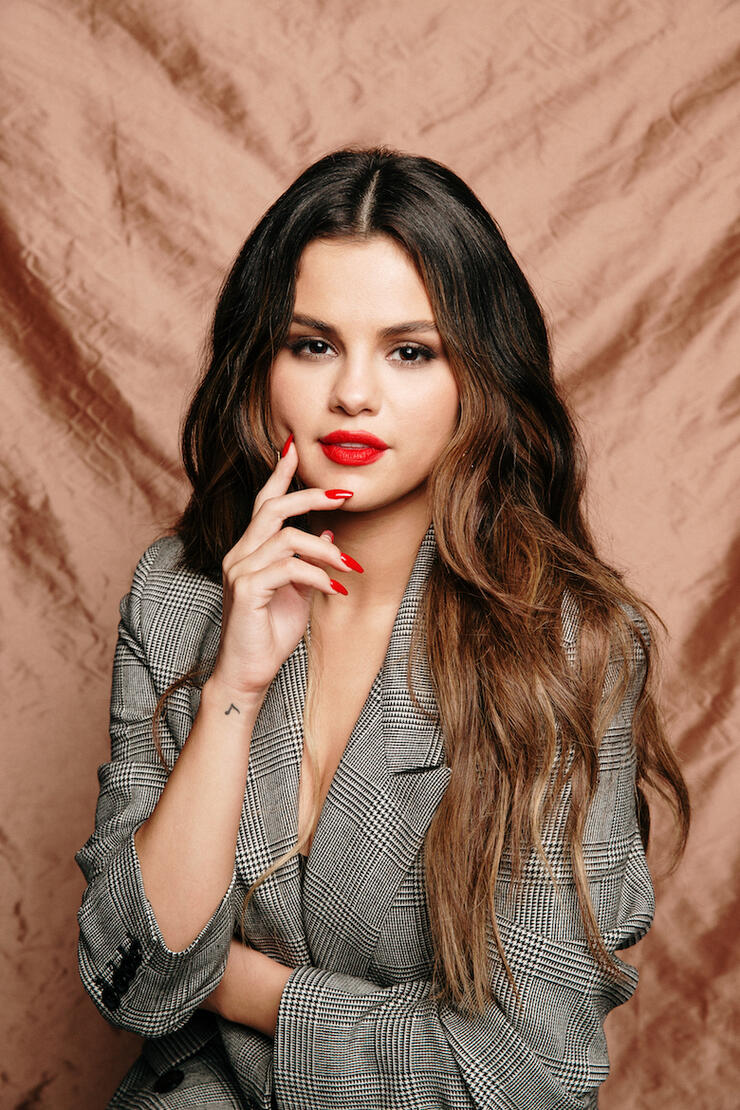 With Selena's new music being a reflection of what she's has experienced over the last couple of years, looking inward, it's made her learn a very important lesson. She explains, "To be okay. You know? One of my friends looked at me when I was crying and ... it was just very soon, and she said, 'It's okay. It's okay to cry about something good. You should be happy that you're crying.' And it was overwhelming, but that just stuck with me."
She adds, "And I believe in therapy, I believe in taking time, learning everything there is to know. I don't have myself figured out at all, but I did find that peace in me where I was able to say I could share this, and this is how I'm [going to] feel good about doing that, and I'm in a good place, and I think this is right for me. So I think what I've learned is what I can handle and what I can't handle. I definitely feel a lot stronger, and I feel more aware of my feelings than I ever have. It's all self discovering, and I'm enjoying doing that."