Thomas Rhett Delivers Heartfelt 'Remember You Young' At 2019 CMA Awards
By Blake Taylor
November 14, 2019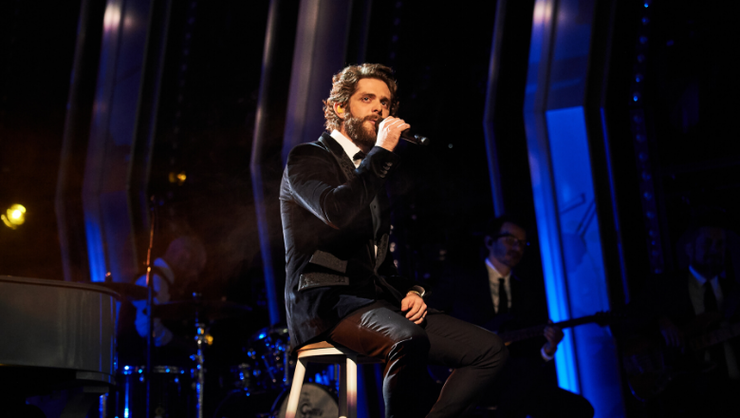 Thomas Rhett delivered a touching performance of his song "Remember You Young" at the 2019 CMA Awards on Wednesday night (November 13).
With an orchestra behind him, Rhett took the stage for a truly captivating and memorable performance on the nostalgic anthem. "Remember You Young," written by Rhett himself alongside Jesse Frasure and Ashley Gorley, is the country star's latest single off his fourth studio album, Center Point Road.
On Tuesday (November 12), Rhett shared a new video for the song featuring actual home video of the country singer and his family including daughters, Willa Gray and Ada James, and wife, Lauren Akins. The same nostalgic feelings portrayed in the video, were also brought to the CMA Award stage on Wednesday night.
"Hey babies crawling on the carpet / No, you won't be that little for long / One day you'll move away but you're still gonna stay / This innocent after you're gone / 'Cause no matter how much time goes by / And no matter how much you grow up / For worse or for better, from now 'til forever / I'll always remember you young," Rhett sings sitting on a barstool center stage.
Rhett's Center Point Road project was nominated for CMA Album of the Year. Additionally, the singer was also nominated for Male Vocalist of the Year among fellow nominees, Keith Urban, Chris Stapleton, Dierks Bentley and Luke Combs, who ended up winning. A full list of winners from the 53rd Annual CMA Awards can be seen here.
Chat About Thomas Rhett Delivers Heartfelt 'Remember You Young' At 2019 CMA Awards