Facebook Reaction: Katie Couric Interviews Sheryl Sandberg On Next Question
By Diana Brown
November 14, 2019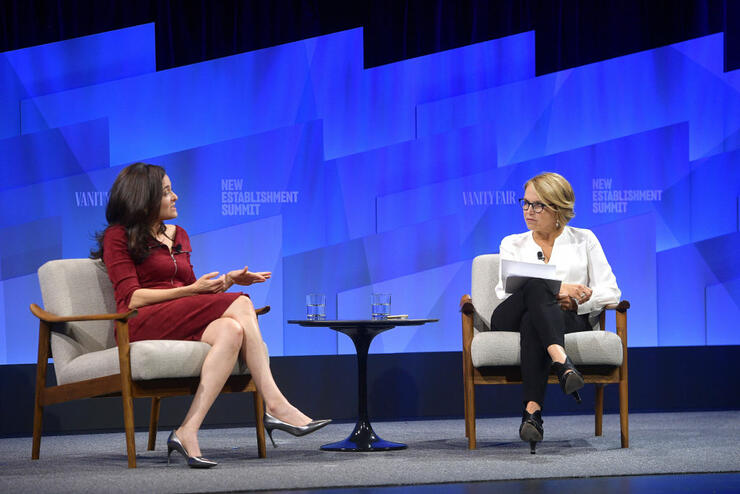 More than two billion people use Facebook or one of its services, like Instagram and WhatsApp, meaning a third of the world's population is connecting and sharing. But though there are plenty of positive aspects to social media, there's also a laundry list of negatives, as Katie Couric points out, from impacting elections to spreading misinformation to creating a safe space for white supremacists and child pornographers. On this episode of Next Question, Katie grills Facebook's Chief Operating Officer Sheryl Sandberg about monitoring misinformation, fake ads and accounts, and hate speech on Facebook; their controversial cryptocurrency project; social media addiction; and Sheryl's own legacy in an incisive interview at Vanity Fair's New Establishment conference. What is Facebook doing to address these concerns? Can the problems caused by social media ever really be fixed, or is it time to unfriend Facebook?
Sheryl has a lot of good answers for Katie's concerns, arguing that Facebook is much better prepared for election interference than they were in 2016, and pointing out that they have taken down 2.2 billion fake accounts in only three months. "Everything that was done by Russia in 2016, everything, was done under a fake account. So if you can find the fake accounts, you often find the root of the problem." She also lists new initiatives like an ad library and marking the country of origin on groups and pages as transparency measures to help users avoid fake information. But when it comes to not fact-checking political speech, Katie isn't fully buying Sheryl's answers about "allowing the debate to continue" or contributing to "political discourse." Still, Sheryl believes that their measures, while not perfect, are the best way to preserve free speech as well as protecting users from misinformation. 
Katie also has doubts that simply labeling something as fake will actually help stop the spread of misinformation, asking Sheryl if she really believes that people use social media "as an opportunity to look at both sides and to see something when it's corrected? Or don't you think that people are getting stuff in their feed that is really affirmation, not information?" Sheryl says that surprisingly, social media users are more informed, and see more broad points of view, citing a Stanford study from early 2019 (ironically, that study also finds that people are generally less politically polarized when they use less social media). But the real problem is that people only see the fake version first, and rarely the correction, Katie argues, so the damage is already done. Sheryl admits that their systems need to move a lot faster. But, data shows that "ISIS and Al-Qaeda content... we find 99 percent of it before it's reported. Hate speech? We're in the mid-60 percentages. Now, that's more than double where we were a year and a half ago, but it still means that 35 percent of the hate speech we take down has to be reported to us, which means someone has seen it."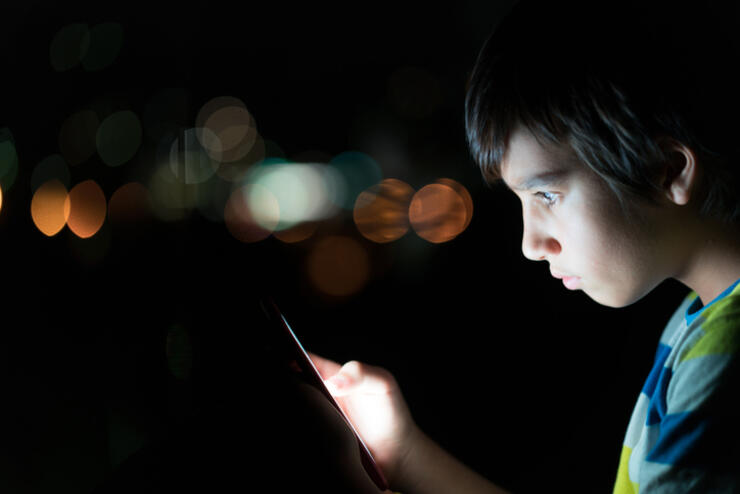 "Isn't that like Whack-a-Mole in a way, though, that everything you take down, something pops up in its place?' Katie wants to know. "How can you ever really get control over this?" Sheryl says it's exactly like Whack-a-Mole, but "it is the price of free speech. We have a service that 2.7 billion people are using. That means that there's going to be all the beauty and all the ugliness of humanity, and our job...is to get as much of the bad off as quickly as possible and let the good continue." 
Their conversation continues with Katie asking about deep fakes, social media addiction and cyberbullying, Elizabeth Warren, the Libra cryptocurrency project, and more; hear what Sheryl called "the toughest interview I've ever done" on this episode of Next Question.
If you want to be sure you're listening to the podcasts everyone else is checking out, iHeartRadio has you covered. Every Monday, iHeartRadio releases a chart showing the most popular podcasts of the week. Stay up to date on what's trending by checking out the chart here. There's even a chart just for radio podcasts here, featuring all your favorite iHeartRadio personalities like Bobby Bones, Elvis Duran, Steve Harvey and dozens of others.
Photos: Getty Images
Chat About Facebook Reaction: Katie Couric Interviews Sheryl Sandberg On Next Question