Political Podcast Who Is Finds Out: Who Is Mitch McConnell?
By Diana Brown
November 16, 2019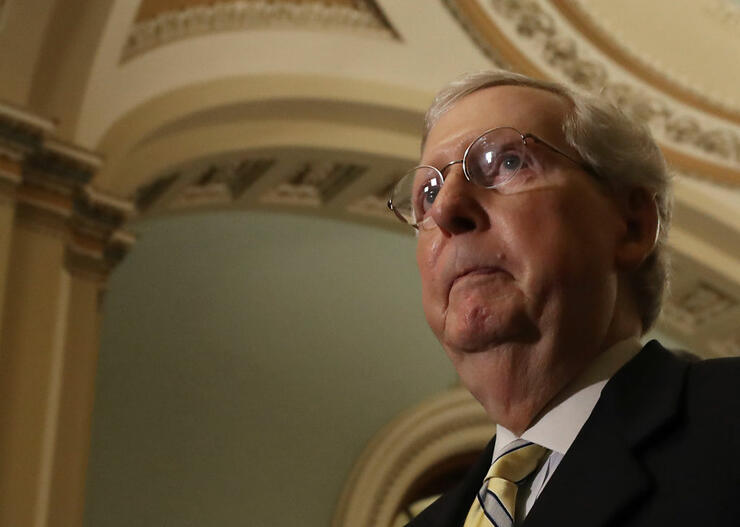 Who Is, a new podcast from NowThis, is hosted by Sean Morrow. He loves a deep dive, he says, and he wants to use this podcast to spotlight the most powerful people in American politics, from politicians to donors, trying to figure out who they are, what guides their decisions, and what they might do next. "There is no Illuminati. There's no shadowy group of lizard people secretly controlling the world. There's no deep state, unfortunately, but there are these people." For the debut episode, Sean zeroes in on Senate Majority Leader and self-proclaimed "Grim Reaper," Mitch McConnell, one of the most powerful people in the country. He's bragged about stonewalling legislation, even when it has the support of a majority of Americans, making Congress under his tenure one of the least productive in history. How did he manage to climb this high, and stay there? Who is Mitch McConnell?
Mitch was born in Louisville, Kentucky in 1942, and wanted a life in politics from early on. In high school, he ran for student body president "and who does he go to? The cheerleaders and football players. He gets the popular people to be for him and he gets elected," Al Cross, director of the Institute for Rural Journalism, tells Sean. Other tough elections after law school showed him the importance of money in campaigning. Lexington Herald Leader reporter John Cheves tells a story from Mitch's brief stint as a teacher: "He went into the first day of class, walked up to the chalkboard to these political science students and said, 'I'm going to teach you the three things you need to succeed in politics and to build a political party.' And he scribbled on the chalkboard and stepped away and the three things were money, money, and money." 
Money is Mitch's North Star. Phillip Bailey covers politics for the Louisville Courier Journal and has been named a Mitch McConnell scholar, and he tells Sean, "People always say Senator McConnell doesn't really have a conservative belief system. He has a belief system of personal power and using that at his will." He became an expert on campaign finance and fundraising, and never had a problem switching his stance on any issue if money was involved. When he was originally running for Senate, he ran negative ads crafted by Roger Ailes (before he started Fox News, of course) accusing his opponent of taking money from special interest groups. Less than a week after winning his seat, Mitch was taking money from special interest groups. After a shooting in Louisville, Mitch called for stronger laws around gun violence, but blocked any legislation from being passed. He wrote that the United States needed to be tough on trade with China, but then started receiving bundles of money from Chinese businesses, making him one of the top fundraisers in the Republican Party. "He immediately threw out what he had previously painted as a very sincerely held position of principle, which was that he thought we should get tough on China," Alex Pareene, writer for The New Republic, recalls. "And then he decided we didn't have to."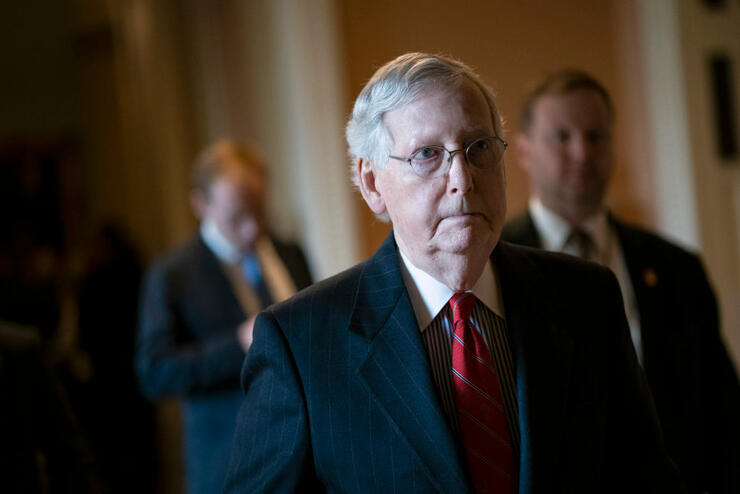 He also worked to make voting more onerous, preferring that people donate to campaigns to show their participation in elections. And a huge part of his money mission has been stacking the courts with lifetime appointments. "The judiciary has huge influence over elections. When it comes to ruling on campaign finance restrictions and whether or not they're constitutional, ruling on gerrymandering, ruling on voting rights, all these different ways in which courts have an enormous impact on national elections," Alec McGillis, ProPublica reporter, says. "He has been adamant from early on about keeping the money flowing and fighting any kind of legislation that would clamp down on money in politics." John Cheves agrees: "I mean, all other legislation has come to a standstill, and it is going to become the judicial appointments factory." 
Take this deep dive into Mitch McConnell's life and political career with Sean to learn more about Mitch's past fighting for civil rights, his strange reason for deferring the Vietnam War draft, how Kentucky feels about him, and of course his recent relationship with Donald Trump and his administration, on the first episode of Who Is.
If you want to be sure you're listening to the podcasts everyone else is checking out, iHeartRadio has you covered. Every Monday, iHeartRadio releases a chart showing the most popular podcasts of the week. Stay up to date on what's trending by checking out the chart here. There's even a chart just for radio podcasts here, featuring all your favorite iHeartRadio personalities like Bobby Bones, Elvis Duran, Steve Harvey and dozens of others.
Photos: Getty Images