Ryan Hurd Says Maren Morris Will Be A Great Mother To Their Baby Boy
By Blake Taylor
November 18, 2019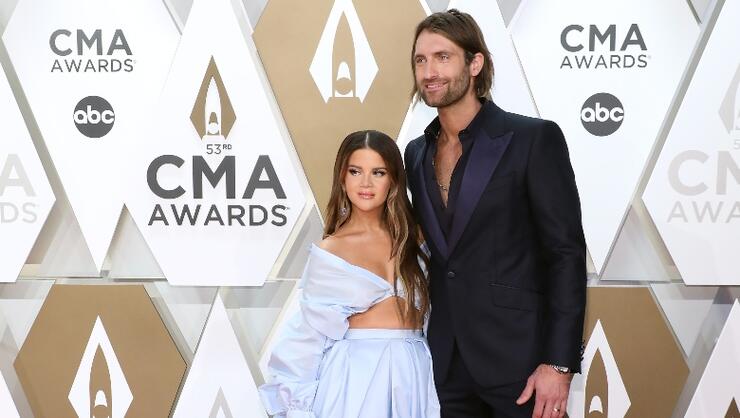 Ryan Hurd and Maren Morris are in full preparation mode as they await the arrival of their baby boy in 2020.
Following her "Girl: The World Tour," Morris now has more time to focus a bit more on getting ready for the baby. Already, Hurd is able to tell what kind of mother she'll be based on her impressive natural parenting instincts ahead of the baby's arrival.
"She's able to fully concentrate on becoming a mom for the first time," Hurd tells People. "She's going to be great."
Hurd has no idea what to expect as he transitions into life as a father however, the country singer has started to reach out to friends who are parents for advice.
"They're sharing stuff from their experience, and I'm trying to wrap my head around that," Hurd says before adding that he also hopes to get some help from family. "My parents live in Nashville and they have their nursery already set up before we do," he shares.
The couple publicly revealed the news about Morris' pregnancy in October, though they'd known about it themselves for a while.
"We had a few months where it was just ours, and then our friends and our families and our teams," Hurd explains. "Then it's been nice to be public and be able to share the news. It seems to be the questions that people want to know about, but it's fine, because we really are thrilled about it."
Morris, who's spent the last year living in the 'GIRL' headspace, was initially shocked to find out she was carrying a boy instead of a girl.
"I grew up with one sister, my mom owns a hair salon, so I was just always surrounded by women," Morris explains. "I have an affinity for them. There's women in my band, in my crew."
"I've never really had a male sibling or anything like that, so I had just felt like I'm gonna have a girl 'cause I'm constantly surrounded by women," she says, adding, "And I put a record out this year called GIRL. And nope- the test said it was a boy!"
Although she was initially a bit surprised, she's "so happy with either."