Stassi Schroeder Reveals New Digital Series 'Basically Stassi' at BravoCon
By Taylor Fields
November 18, 2019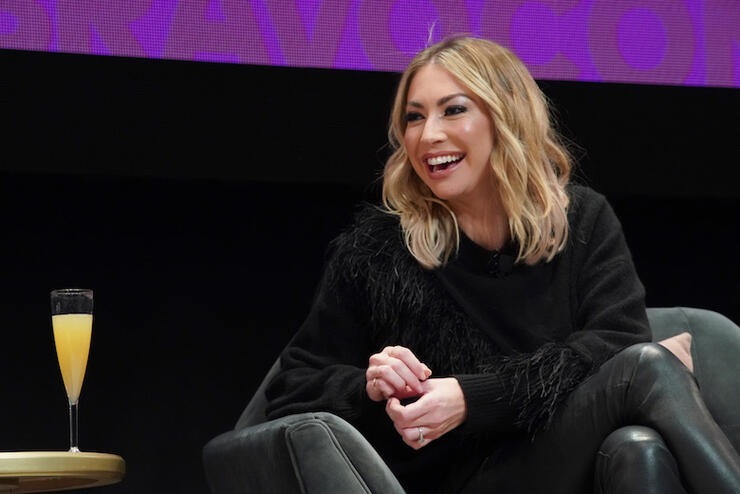 If you couldn't get enough Stassi Schroeder on Vanderpump Rules, or via her book or podcast, you can now watch her in her own digital series: Basically Stassi.
The reality TV star/author/podcast host revealed the new series during the first-ever BravoCon in New York City on Sunday, November 17th during her Basically Stassi panel at the convention.
A statement from Bravo describes the show as a "natural extension of Stassi Schroeder's guiding principle in life: be proud, be bold, and most of all, be basic!" It goes on to say, "Stassi has a NY Times bestselling book and a wildly successful podcast and now she's bringing her love for all things unapologetically basic to a new digital series! In each episode, she and her fiancé Beau casually entertain guests in the living room of Stassi's apartment. We'll see Stassi get ready and pick out her #OOTD, and then pour some wine with her guests so she can hold court and preside over the most important topics of conversation, like ranch dressing pairings to the obsession with the perfect (theoretical!) murder. Throughout the episode, Stassi and guests poke fun at talk show conventions with fun sketch segments like Judge Stassi. So sit back, pour yourself a glass of Pinot Grigio and get basic with Stassi!"
Four episodes have already been posted to the Bravo website and YouTube channel, featuring guests including "B*tch Bible" podcast host Jackie Schimmel, beauty YouTuber Manny Gutierrez, Vanderpump Rules' Lala Kent, as well as Jax Taylor, Brittany Cartwright and Lance Bass.
After the announcement of her show, Stassi shared in a post on Instagram, "Working on this reality/talk show hybrid has been a freaking DREAM. We have 4 episodes out on Bravo's YouTube." She added, "Would love to hear your thoughts and ideas for new possible segments."
Schroeder released her book, Next Level Basic: The Definitive Basic B*tch Handbook, earlier this year in April, which made the New York Times Best Seller list. Meanwhile, fans have been listening to her "Straight Up with Stassi" podcast weekly over the last few years.
Listen to Stassi Schroeder's "Straight Up with Stassi" podcast on iHeartRadio:
Chat About Stassi Schroeder Reveals New Digital Series 'Basically Stassi' at BravoCon