Homeland Security Is Reportedly Investigating Josh Duggar
By Emily Lee
November 20, 2019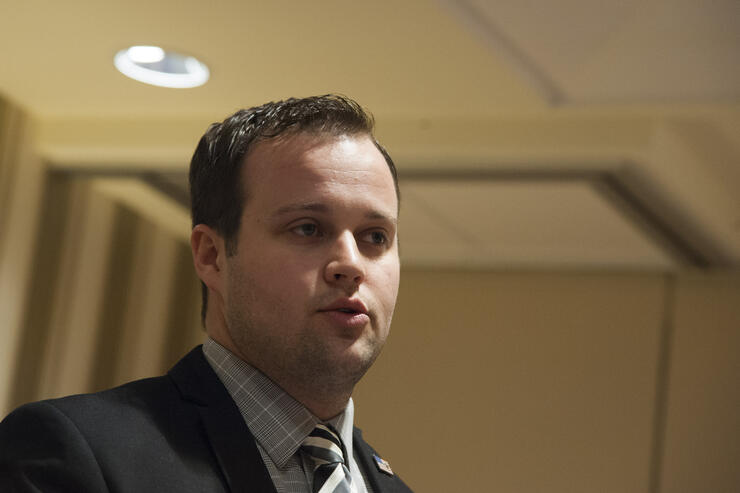 Homeland Security agents were present at the car dealership Josh Duggar works at in Springdale, Arizona. According to TMZ, the former reality star is the subject of a federal investigation, though no other details about the probe have been released. A representative for the Department of Homeland Security would only confirm that agents were, in fact, at the dealership.
This news comes on the heels of reports that Homeland Security agents raided Jim Bob and Michelle Duggar's residence, as well, though they denied the claims via a spokesperson. "We were shocked to see a news report today state that our home was raided by federal law enforcement agencies. This is not true," a rep for the Duggar family told Entertainment Tonight. "To the best of our knowledge, it's also not true that any member of our family is the target of any investigation of any kind."
"Living a life in the public's eye has taught us that it is best not to reply to every rumor and piece of 'fake news' that is circulated online," the statement continued. "It would be a full-time job if we attempted to do so," the statement continued. "However, because of tonight's media coverage we thought it is important to address this rumor with you. Thank you for the love and support that we can always count on in you our fans and friends."
The alleged raid on the Duggar family home was first reported by local NBC affiliate KNIWA in Northwest Arkansas. The news outlet reported that a Homeland Security [HSI] spokesperson informed them the presence of agents was "pursuant to an on-going federal criminal investigation."
Though HSI did not release anymore details about the ongoing situation, their website lists the type of crimes they investigate, including: "financial crimes, money laundering and bulk cash smuggling, Commercial fraud and intellectual property theft; cybercrimes, human rights violations, human smuggling and trafficking, immigration fraud, narcotics and weapons smuggling/trafficking, transnational gang activity, export enforcement, and international art and antiquity theft."
As TMZ reports, the only known legal dispute involving Josh Duggar is a lawsuit filed against him for real estate fraud. He was also the subject of a child molestation scandal back in 2015. As a result, the Duggar family's long running TLC show 19 Kids and Counting was canceled.
Photo: Getty