Ray J's Pregnant Wife Puts Him On Blast, Says He Left Her Stranded In Vegas
By Peyton Blakemore
November 20, 2019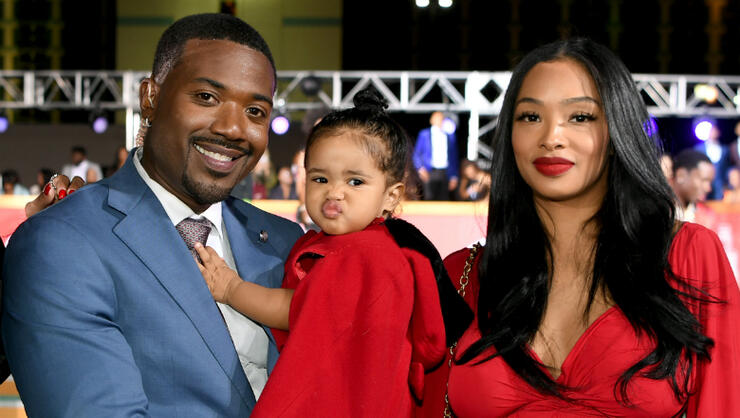 Princess Love is eight months pregnant and she doesn't have time for games.
On Tuesday (November 19), the Love & Hip Hop Hollywood star took to Instagram to accuse her husband Ray J of leaving her and their daughter Melody stranded in Las Vegas without a way to get home.
After Ray shared an Instagram photo of his smiling family at the Soul Train Awards on Sunday (November 17), Princess took it upon herself to let the world know that it wasn't all smiles after that picture was taken.
"Left me and Melody stranded in Vegas and blocked me from calling.. now you wanna post family photos #ByeUgly," the expecting mom commented on the since-deleted photo. She later took to Instagram Stories to explain why she couldn't just "go home on her own," writing, "Yes I can fly home.. I have my own money. But my car is here and I don't want to drive back alone with my daughter because I'm over 8 months pregnant and I don't even want to have to stop for gas or go into labor with all of this human trafficking going on..."
Ray has yet to respond to his wife's allegations. However, he did delete the initial photo.
All of which comes nearly a month after Ray was accused of possibly "creepin'" on Princess. Late October, The Shade Room shared a video of the singer speaking to a female who was not his wife at Drake's birthday celebration. The anonymous eyewitness, who recorded the footage, additionally shared their unverified breakdown of what happened between Ray and the mystery woman, telling TSR: "He was out last night living his best life at Drake's birthday party in LA and though things seemed harmless at first, it wasn't long before he whipped out his phone and gave it to another girl he was dancing with."
The eyewitness added, "It could have been harmless, but he was way too flirty with the chick and was paying sis way too much attention and she definitely gave him the number."
Following the release of the video, Ray announced via a press release shared by Essence, that he'd dropped out of several dates on the "#TB Tour: The Reunion" to focus on welcoming his next child. The Love & Hip Hop star was set to join Immature, B5, J. Holiday and Day 26 for their tour, which kicked off on November 2, but per the press release, Ray said he was focusing on "preparing for baby number two with his wife, Princess Love Norwood, his upcoming TV One holiday movie, Dear Santa…I Need A Date (opposite Reagan Gomez), his forthcoming EP Emerald City and his tech company Raycon Global."
Photo: Getty Images