Watch Kacey Musgraves Debut Her New Christmas Song 'Glittery'
By Blake Taylor
November 21, 2019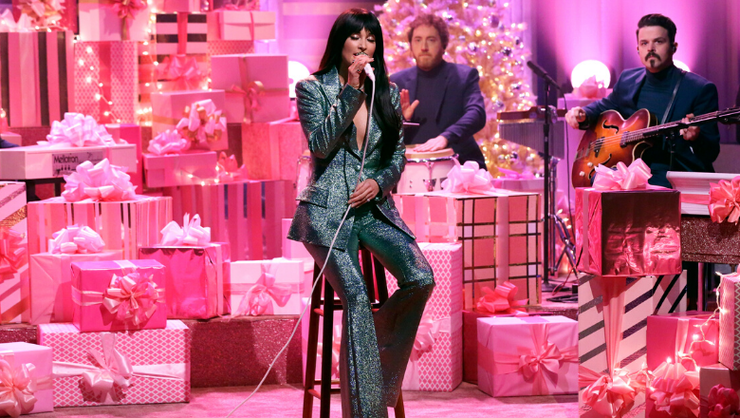 Kacey Musgraves is giving fans a new holiday tune to enjoy this season. The country singer brought her new song "Glittery" to The Tonight Show Starring Jimmy Fallon on Wednesday night (November 20).
Musgraves' "Glittery" performance was on a stage full of pink presents with sparkling Christmas trees in the back. The new song compares the feeling of Christmas time with the feeling of a happy romantic relationship.
"You make me feel so glittery / you light me up light starlight on a Christmas tree / Every single kiss is like a gift to me / And I love the way you decorate my heart," she sings in the chorus.
"Glittery" comes just ahead of Musgraves' Amazon Prime holiday special, The Kacey Musgraves Christmas Show. The special will include performances of both original and classic holiday songs along with a handful of collaborations with celebrity guests.
Pop singer, Camila Cabello, James Corden, Lana Del Rey, Zooey Deschanel, Kendall Jenner and more are expected to make appearances on the show. Additionally, Musgraves' own grandmother will be featured.
"There's kind of a little bit of everything," Musgraves tells Fallon of the special, adding, "I have to say, I've never done anything like this before.
"I'm a triple threat now!" Musgraves jokes. "There's dancing, there's singing, there's comedy bits, there's acting ... I have a lot of wonderful guests that come and join me. It's kind of my take on the old-school Judy Garland Christmas, Cher show thing, brought to life in a modern way."
The Kacey Musgraves Christmas Show will premiere November 29 on Amazon Prime.
Take a listen to Musgraves' new song, "Glittery" and check out her full interview on The Tonight Show Starring Jimmy Fallon below.
Chat About Watch Kacey Musgraves Debut Her New Christmas Song 'Glittery'