Kesha & Big Freedia Take The 2019 AMAs To Church With 'Raising Hell'
By Paris Close
November 24, 2019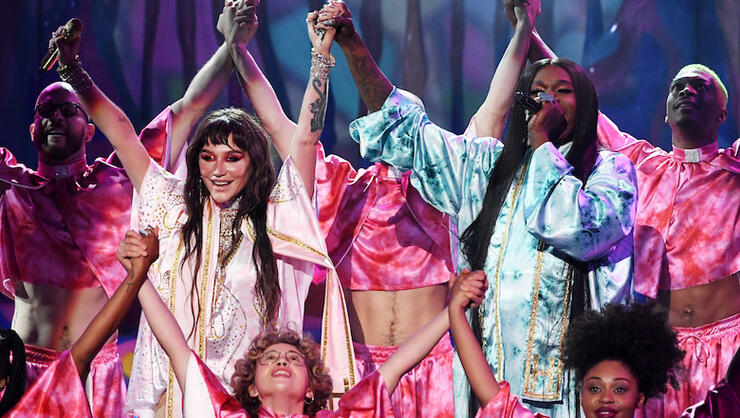 Kesha and Big Freedia took the American Music Awards to church tonight!
The pop star and NOLA's bounce queen shook up the annual music awards show with a lively performance of their new bop "Raising Hell" on Sunday night (November 24). Together, Kesha and Freedia looked to be having the time of their lives as the duo stormed the AMAs stage, engaging the audience to get on their feet and dance along to the bounce beat. Then, just when we thought her set was coming to a close, Kesha pulled one more trick out of her bag when she surprisingly burst out into a vivacious performance of her iconic smash hit "Tik Tok."
Tonight's display marked Kesha's first AMAs performance in six years after she previously joined Pitbull on-stage to perform their club-ready collab "Timber" in 2013. "Raising Hell" also signals the dawn of Kesha's new era with the release of her fourth studio album, High Road, arriving in January 2020, her first to follow 2017's Rainbow.
Kesha revealed her Freedia-assisted track came together after the music partners linked up during the Kesha Cruise. "We ended up hanging all night until the sun came up. We got matching tattoos on the high seas, and by the end of the night I was like, 'we're working together, done. It's done,'" Kesha recalled in a recent interview. "When I was mixing 'Raising Hell' I thought to myself, Freedia would be amazing on this. She's Queen Freedia. I called her up and it was an instant 'hell yeah.' So her and I, we just have so much fun together."
Photo: Getty Images
Chat About Kesha & Big Freedia Take The 2019 AMAs To Church With 'Raising Hell'