Taylor Swift Reacts to Camila Cabello & Shawn Mendes' AMAs Performance
By Taylor Fields
November 24, 2019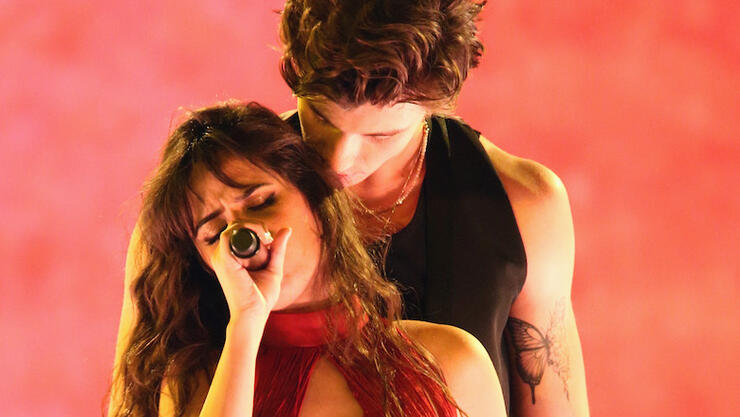 After years of being "just friends," this year, Camila Cabello and Shawn Mendes took their relationship to the next level and began publicly dating. The PDA has been packed on over the last few months, especially in live performances of their latest collaboration "Señorita," and this year's American Music Awards was no exception. But, the best part? Their pal Taylor Swift's reaction to seeing them heat up the stage live.
You see, it started off as any other Shawmila "Señorita" performance begins, as Camila — rocking a very caliente red dress — slowly makes her way to her Shawn, who is naturally playing the guitar.
But then, the two get closer and closer, until they are literally face to face and singing into the same microphone. Exhibit A:
As this is all going on, Taylor, who was hanging out in the audience with the fabulous Billy Porter, was watching it all happen — watching the two Lovers (see what we did there) live.
And, she was LIVING for it:
Ladies and gentlemen, the look of PURE JOY for all the love:
Shawmila's "Señorita" was a surprise for fans in the days leading up to this year's AMAs. Camila and Shawn also won the award for Collaboration of the Year for the hit song.
In fact, "falling in love" was a major inspiration behind Cabello's upcoming new album Romance, which is due out on December 6th. In a statement, she said of the sophomore release, "I just wanted this album to sound like what falling in love feels like, pretty impossible thing to do but I can say I gave it all I had. I've never lived as much life as I did writing this album. It was messy, and beautiful, and unforgettable and at times so painful I wish I could forget, it was excruciatingly consuming and impossible not to get lost in, it was mine... and now it's yours."
Chat About Taylor Swift Reacts to Camila Cabello & Shawn Mendes' AMAs Performance