Colin Cowherd: Russell Wilson is Better than Aaron Rodgers
By Wil Leitner
November 25, 2019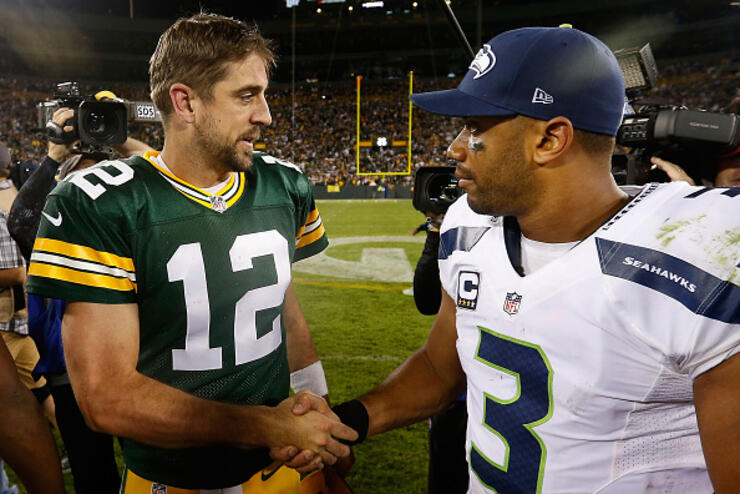 Colin Cowherd:

"I think Aaron Rodgers is wildly talented but I prefer Russell Wilson over Rodgers. Wilson goes on the road yesterday; weather is awful, was sacked 6 times, under siege all day, 4 drops, best defensive player Jadeveon Clowney doesn't play, young wide receivers, new target Josh Gordon… and he yet he finds a way to win. For six straight years he's been sacked 40 or more times and never had a losing season, never made an excuse, never threw a teammate under the bus, we never hear grumbling, there's never eye rolling, he's never hurt, he never gets blown out, HE JUST FINDS A WAY TO WIN. In this league when things aren't going perfectly how are you? Wilson keeps you in EVERY game and wins most of them. This is just one of those guys I want in my fox hole."

(Full Audio at Bottom of Page)
Listen to Colin Cowherd explain why he would rather have Seattle Seahawks quarterback Russell Wilson over Green Bay Packers quarterback Aaron Rodgers, as both players are routinely compared as the two most physically gifted quarterbacks of the era.
Wilson is neck-and-neck with Lamar Jackson of the Baltimore Ravens for NFL MVP and is in the midst of the best season of his career, on pace for 35 touchdowns compared to just 4 interceptions and a pristine 112.1 passer rating.
Colin says Wilson perpetually keeps the transitioning Seahawks not only afloat, but in the NFC championship hunt every year. Despite the great 'Legion of Boom' teams having completely dissolved, Wilson seems to be able to string together 10-win seasons in Seattle no matter what the personnel is. Wilson is 84-38 for his career and has won under 10 games just once, which was a 9-7 2017 season. Rodgers is 108-60-1, an elite win/loss record in this generation, but is coming off a 6-9-1 season where Rodgers made all 16 starts.
Check out the audio below as Colin details why he'd take Wilson over Rodgers just a day after Rodgers suffered one of the most embarrassing losses of his career.
Chat About Colin Cowherd: Russell Wilson is Better than Aaron Rodgers