T.I. Breaks Silence Over His Comments About Daughter's Virginity
By Peyton Blakemore
November 25, 2019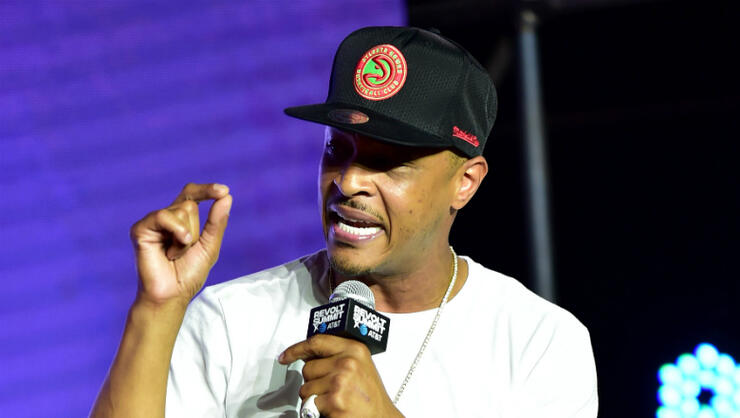 T.I. has finally spoken out after receiving backlash over his controversial virginity testing comments.
While on Jada Pinkett Smith's Red Table Talk on Monday (November 25), the 39-year-old rapper, who was supported by his wife Tiny, addressed his recent comments about going to his 18-year-old daughter Deyjah's gynecologist appointments to "check her hymen" and ensure she's still a virgin.
"I came to clear up any misconceptions that have been surrounding how we interact and parent and what is appropriate and inappropriate," he began. "I think this surrounds a conversation I was having in a very joking manner. I just began to—from a place of truth—I began to embellish and exaggerate. I think people kinda took it extremely literal, because if you put any of my reputation... Who I am as a father, who I been...I honestly thought people knew me better than that."
Tip added that he didn't understand the sensitivity of the topic at the time, but said he "absolutely" does now.
He went on to clarify a few things about his visits to the gynecologists with Deyjah, saying he never went with her alone because mother, singer Ms. Niko was always present. He also claimed that Deyja "never" objected to him being there. "She did have a problem with me talking about it, however, and I understand that," Tip admitted. "I am incredibly apologetic to her for that. Not to any of these other strangers or any of these weirdos who just kinda toss lies around for fun. She understands my intentions and she knows who I am, who I've always been."
T.I. later explained that he feels that you have to have a level of control over your children. "I think that in the age or time where our women—black women—are the most unprotected, unattended, disregarded women on the planet... I'm being criticized because I'm willing to go above and beyond to protect mine," he said. "I'm talking about all of the little slimy grimy chubby-fingered little boys who want to just come and defile and destroy the sanctity."
He added, "I am here to protect all of the children from themselves until they make it to a point where they have awareness, a sense of self and discernment to be able to make certain decisions on their own that will impact their lives indefinitely... I'm not there to protect necessarily virginity, I just know that is a big move."
As for why it took him several weeks to publicly address the situation, Tip said he remained silent at Deyjah's request. "My daughter said just let it go, don't say nothing, just let it go and I did — until l I had different directives," he said. "I would not be here today had I not had those different directives. I'd still be sitting in silence."
Photo: Getty Images
Chat About T.I. Breaks Silence Over His Comments About Daughter's Virginity