Turkey And Tradition: Thrillist's Best (and the Rest) Debates Thanksgiving
By Diana Brown
November 26, 2019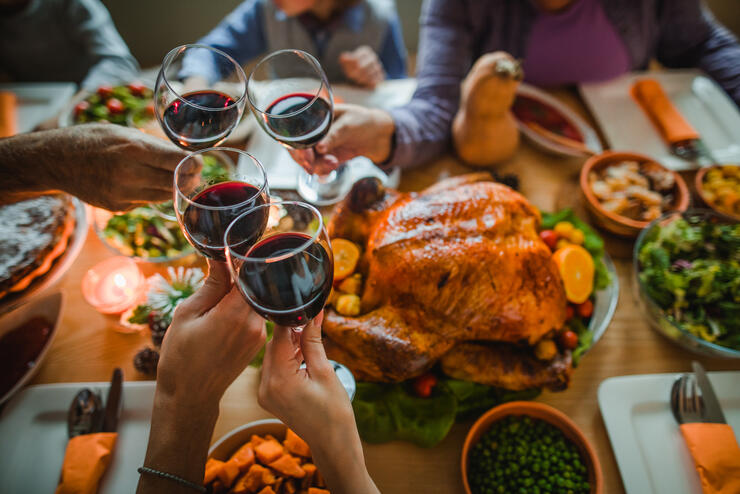 Thrillist's Best (and the Rest) host Wil Fulton talks turkey in this episode, debating all things Thanksgiving. Along with Thrillist executive food editor, Nicole Taylor, senior editor Adriana Velez, and senior news editor Tony Merevick, Wil will drink wine, eat cheese, and answer the important questions: which is better, stuffing or dressing? Is gravy a side dish? What's the best time to eat? From the Macy's Thanksgiving Day Parade to the National Dog Show, from the best pie to the best side, from the time Tony ate an edible before dinner to the time Wil ate an edible before dinner, the Thrillist team leaves no stone unturned in their pursuit to determine the best of Thanksgiving - and the rest.
First, Wil asks about stuffing versus dressing, and Nicole says stuffing is too bland. "I'd rather have the cornbread dressing in a casserole dish with the crisp edges. So when you bite into it, you kind of have that crunch...it's really great." Adriana agrees; "you want that variety of textures, otherwise it's so bland. The only thing that gets to be that uniform in texture are the mashed potatoes." But Tony points out that pretty much everything on a Thanksgiving plate is mushy, "so it all gets mixed, and it's delicious." Nicole's not into her food touching, and Adriana describes her plate "like the EU, they're all adjacent, there's some visiting. Some foods get along better than other foods, so I keep them near each other and so they can enjoy each other's fellowship. And then there's salad, which is England, which wants to be separate." What about real cranberry sauce versus the kind that comes from a can? Wil says he'll "die for canberry," but Nicole swears he'll change his mind if he tries Kitchenista's homemade cranberry relish recipe. Tony keeps it simple: "I don't touch that s**t." 
Nicole stuns the group by admitting that she's never had a slice of pumpkin pie in her life. "I grew up where's all about the...sweet potato pies and that's what you eat. I never ever saw cans of pumpkin nor a whole pumpkin being roasted for a pumpkin pie. If I have to buy or make a pie for Thanksgiving, it's going to always be sweet potato." Wil loves a slice of pumpkin pie on Thanksgiving; Adriana likes bourbon pecan the best, and Tony says apple. But of course, it all depends: "Pie is really easy to get wrong," Tony says. "If you have a bad one, it's really bad."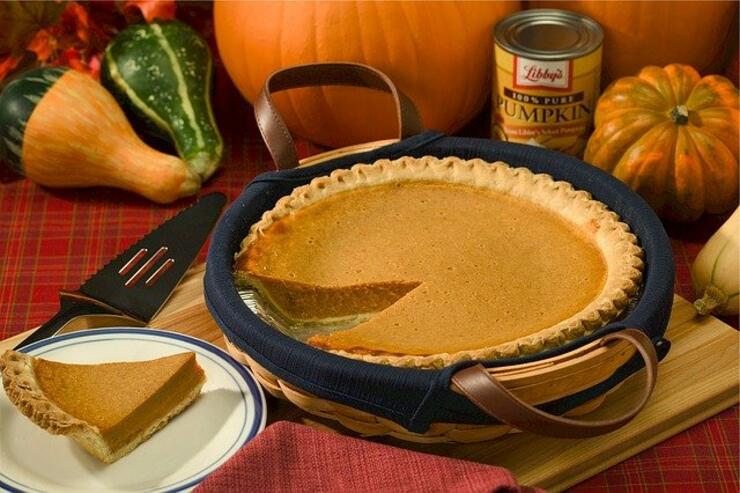 Another tradition Wil asks about is Thanksgiving Eve, one of the biggest bar nights of the year. Do any of the Thrillist team go out the night before Thanksgiving and bump into high school friends? Tony tells us that he did go out one year, with his mother to a barbecue restaurant, and "there's this huge line snaking out of a bar across the town square from us," he says. "And then it hit me, I realized that it's the annual Turkey Testicle Festival," which is a real festival in Huntley, Illinois. Some time is spent Googling turkey testicles (apparently, they look like fried oysters) before they get back on track, telling some terrible travel tales, like when Tony's cab ride to LaGuardia the day before Thanksgiving took three hours and the driver confessed that he was afraid he was going to pee his pants. "I hope he survived."
Find out Wil, Nicole, Tony, and Adriana's picks for the best things about Thanksgiving, and hear more about their own family traditions, turducken, Friendsgiving, the best places to eat out on Thanksgiving, and more, on this episode of Thrillist's Best (and the Rest) – and have a happy Thanksgiving, no matter how you celebrate!
If you want to be sure you're listening to the podcasts everyone else is checking out, iHeartRadio has you covered. Every Monday, iHeartRadio releases a chart showing the most popular podcasts of the week. Stay up to date on what's trending by checking out the chart here. There's even a chart just for radio podcasts here, featuring all your favorite iHeartRadio personalities like Bobby Bones, Elvis Duran, Steve Harvey and dozens of others.
Photo: Getty Images
Chat About Turkey And Tradition: Thrillist's Best (and the Rest) Debates Thanksgiving