Watch Lady Antebellum's Hilarious 'Old Town Road' Parody, 'Turkey Mode'
By Blake Taylor
November 25, 2019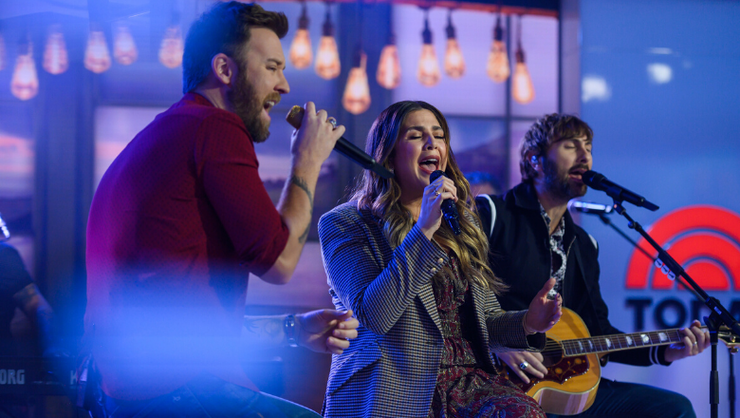 Lady Antebellum is getting fans in the Turkey Day spirit with a hilarious parody of "Old Town Road," they call "Turkey Mode."
"Turkey Mode" was shared on Lady A's social media on Monday (November 25), just days ahead of Thanksgiving. "Lady Haze - Turkey Mode," the caption says. "#LadyHaze dropping a little Thanksgiving tune for y'all. 😂🦃 #turkeymode"
The video features emojis to go along with the original song lyrics along with clips of the trio's Charles Kelley dressed in a small turkey costume.
"I'm gonna slap this thing into turkey mode, I'm gonna eat 'till I can't no more," Kelley sings to the beat of the Lil Nas X hit.
Check out the new "Turkey Mode" video below.
Lady Antebellum recently released their highly anticipated new album, Ocean, noted as the group's "most personal and honest record."
"I know everyone says this about their new record, but this one is hands down the most personal record we've ever made," Kelley shared at the iHeartCountry Album Release Party presented by State Farm®. "And to hear y'all's stories and see the reaction and see the songs that y'all are gravitating towards, it gives me a lot of hope that when we make honest music, that's what connects with you all the most. So thank you for that."
Ocean is Lady A's eight studio album and follows up their 2017 LP Heart Break. The 13-track record featured the lead single, "What If I Never Get Over You" along with "Pictures" and "Ocean."
Lady Antebellum's deep cut album title-track, "Ocean" can be heard below.
Chat About Watch Lady Antebellum's Hilarious 'Old Town Road' Parody, 'Turkey Mode'