Blake Shelton to Celebrate 'Fully Loaded' During Album Release Party
By Taylor Fields
December 5, 2019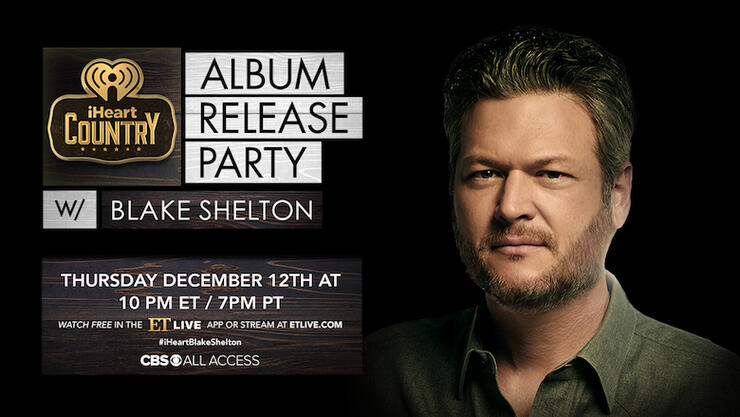 Blake Shelton is releasing his Fully Loaded: God's Country album on December 13th, but the country star is celebrating early during his intimate iHeartCountry Album Release Party on December 12th in Los Angeles — and fans from across the country will be able to tune in and watch it happen live.
Fully Loaded: God's Country follows 2017's Texoma Shore and is the latest of his compilation albums, preceded by 2015's Reloaded: 20 #1 Hits and 2010's Loaded: The Best of Blake Shelton. The country star kicked off the decade by releasing a compilation album and now he's ending it by releasing another! Shelton's Fully Loaded includes five new songs, including "God's Country" and "Hell Right" (featuring Trace Adkins), in addition to seven previous hits like "Came Here to Forget," "I Lived It" and "I'll Name The Dogs."
During his exclusive iHeartCountry Album Release Party, Blake will perform some of his new music, as well as fan favorites from previous albums. Shelton will also talk about Fully Loaded and more during an exclusive Q&A hosted by Cody Alan.
How To Stream The Show
Fans can listen and tune in free for a stream of the exclusive iHeartCountry Album Release Party with Blake Shelton on Thursday, December 12th at 10pm ET/7pm PT via the ET Live app on Fire TV, Roku and Apple TV, or at ETLive.com.
Get pumped for the show and listen to some of Blake Shelton's new Fully Loaded: God's Country songs below.