for KING & COUNTRY Performs Unique Rendition of 'Little Drummer Boy'
By Chandler Reeves
December 5, 2019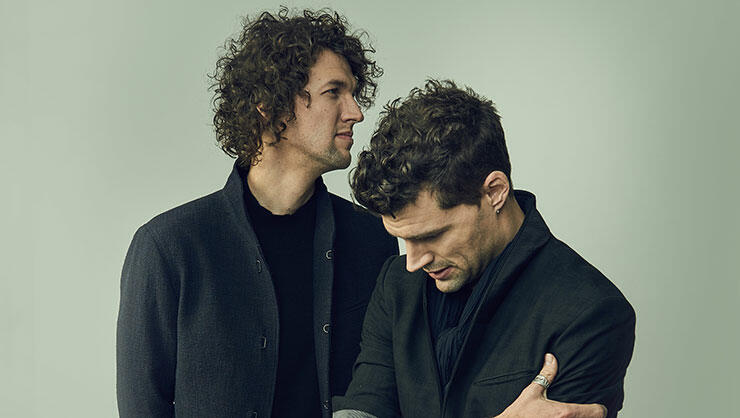 Fresh off the heels of their thrilling CMA Awards performance with Dolly Parton, two-time Grammy Award-winning duo for KING & COUNTRY was proud to return to the CMA stage on Tuesday night (12/3) for the 10th annual CMA Country Christmas. The duo – who share a brand-new Grammy nomination with Dolly Parton - performed their unique and inspired rendition of the classic "Little Drummer Boy," which elicited a lengthy standing ovation from the audience - enraptured by their high energy performance.
"Growing up in Nashville and loving the songs that are born here, country music specifically has always been welcoming and familiar to us," says Joel Smallbone, one half of for King & Country. "So, to be invited to perform 'Little Drummer Boy' as part of the CMA Country Christmas felt like a lovely bear (or Santa Claus) hug, celebrating one of the great and most unifying holidays of the year."
"The love we felt onstage and backstage - and through the TV last night was wonderful. Thank you," says Joel Smallbone, one half of for KING & COUNTRY. "The reaction we've received since our performance aired is truly remarkable. What a wonderful celebration of people coming together under the banner of hope, love and peace."
Joel and Luke Smallbone's rousing rendition of "Little Drummer Boy" has become a holiday season smash in recent years, and an essential must-see moment in their live shows. Watch the official music video below.
for KING & COUNTRY are in the midst of a fruitful holiday season, receiving two 2020 Grammy Award nominations. The band's unprecedented collaboration with Dolly Parton on hit track "God Only Knows" has been nominated for Best Contemporary Christian Music Performance/Song, while the duo's full-length masterwork on which the song lives, burn the ships, received a nomination for Best Contemporary Christian Music Album. The 62 Grammy Awards, hosted by Alicia Keys, will air on January 26, 2020 on CBS.
You can catch for KING & Country on tour next year, as the duo recently announced their burn the ships | North America: 2020 Encore arena tour, taking their extravagant live show to 14 more arenas in the United States. For tickets and more information, click here.
Chat About for KING & COUNTRY Performs Unique Rendition of 'Little Drummer Boy'