Nancy Pelosi Says House Moving Forward With Articles of Impeachment
By R.J. Johnson - @rickerthewriter
December 5, 2019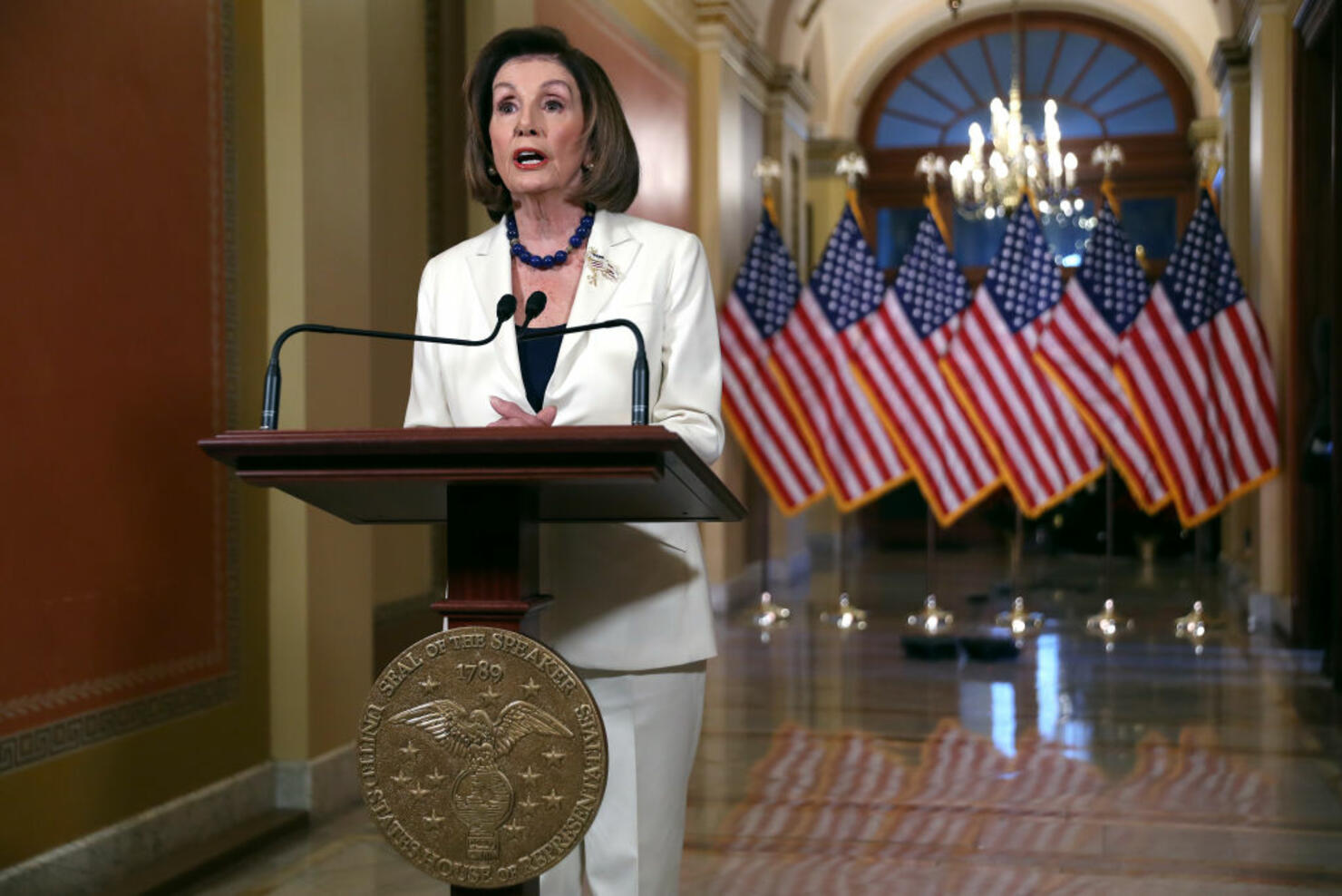 In a televised address Thursday morning, House Speaker Nancy Pelosi announced that she will ask the House Judiciary Committee to proceed with drafting articles of impeachment against President Donald Trump, saying that Trump's alleged wrongdoing involving Ukraine are "uncontested."
"The president abused his power for his own personal political benefit," said Pelosi, (D-CA). "The president's actions have seriously violated the Constitution."
"Today I am asking our chairmen to proceed with articles of impeachment," she added.
In the statement delivered just after 9 a.m. at the Capitol building, Pelosi said the facts of the case has led the House to the conclusion the president had "abused his power for his own personal, political benefit at the risk" of U.S. national security and that the president's actions had "seriously violated the Constitution."
"Our democracy is what's at stake," Pelosi said. "The president leaves us no choice but to act because he is trying to corrupt, once again, the election for his own benefit."
Pelosi's announcement comes one day after a panel of legal scholars testified in front of the House Judiciary Committee that Trump's actions involving Ukraine and his request to have the family of his potential 2020 rival, former Vice President Joe Biden, investigated for his links to a gas company in that country.
Harvard law professor Noah Feldman told the committee on Wednesday that the president had abused the power of his office when he asked the newly elected president of Ukraine to launch an investigation into Biden's son, Hunter. Feldman said Trump's actions was precisely the type of thing the Founding Fathers were worried about when they drafted the Constitution and gave Congress the sole power of impeachment.
Pelosi said the Founding Fathers never intended for one person to be "a king."
Democrats on the House Intelligence Committee released a full 300-page report about their findings earlier this week, which stated that Trump withheld nearly $400 million in military aid and a White House visit from Ukrainian President Volodymyr Zelensky until he announced that officials in his country would launch corruption investigations into Joe Biden and his son Hunter. The report concluded that withholding the military aid to a country at war with Russia had "endangered U.S. national security."
Photo: Getty Images