Sam Smith Teases 2020 New Album: 'I Can't Wait for Next Year'
By Sierra Marquina
December 6, 2019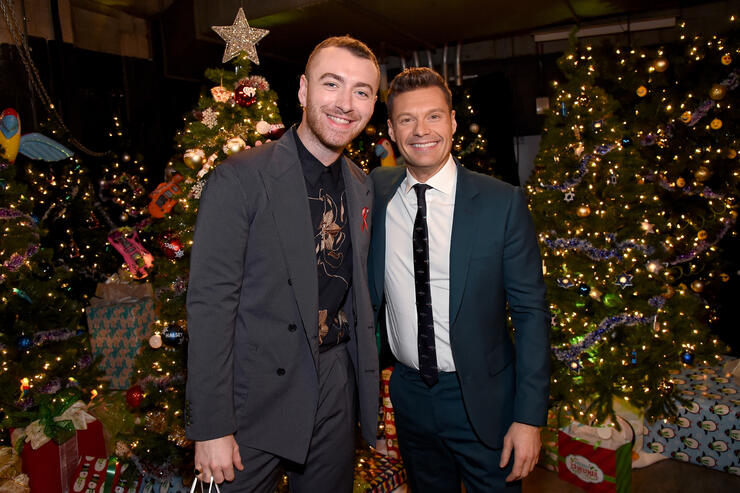 Sam Smith can't wait for 2020. The "Dancing With a Stranger" singer shared with Ryan Seacrest on Friday, December 6, that they have a "whole album ready" to release next year.
The Grammy winner, who is making the rounds on the iHeartRadio Jingle Ball Tour and who came out as non-binary earlier this year, revealing their gender pronouns are they/them, has also never been happier.
"For me, personally, it's been a year where I feel like I've been set free a little bit," Sam shared with Seacrest on-air. "And so it's been a really beautiful year. In a sense, I feel like I've kind of broken out of a doom and gloom mindset I was in for quite a while so for me it's definitely been a freeing year."
The "Promises" singer confirmed they've been busy working on a pop-driven follow-up to their 2017 album, The Thrill Of It All, which will arrive next year.
"I can't wait," Sam teased of 2020. "I've got a whole album ready to go so I can't wait to release new music and get singing and dancing and performing. I haven't been this excited for a year, in a long time actually. I can't wait for next year."
Until then, Sam will wrap up performing on the iHeartRadio Jingle Ball Tour and plans to spend Christmas with family — and lotsa wine.
"Christmas in London is pretty beautiful," Sam gushed of their plans. "I'm just with family and we just drink way too much. It's pretty gross," Sam joked. "[We drink] all the wine. All the wine. We all wanna get gout for Christmas."
Relive the full interview in the audio above and catch Sam's performance tonight at KIIS FM's Jingle Ball at The Forum in Los Angeles and at the iHeartRadio Jingle Ball in NYC on December 13!