6 Fatally Shot, 2 Injured in Jersey City Active Shooter Situation
By R.J. Johnson - @rickerthewriter
December 10, 2019
Authorities say multiple people, including at least one police officer was fatally shot Tuesday afternoon, after two people opened fire around a convenience store in Jersey City, New Jersey.
According to Jersey City Mayor Steven Fulop, there are "multiple deceased" civilians inside the store following the gun battle between the shooters and dozens of law enforcement officers that lasted for more than an hour. ABC News reports that 5 people were found dead inside the store, including the two suspects.
Terrorism is not suspected. A motive for the shooting has not been released by police.
The shooting began at around 12:30 p.m. local time, prompting a huge response involving dozens of law enforcement officers. Authorities say the shooting occurred on Martin Luther King Drive near Bayview Avenue. At least two suspects had barricaded themselves inside a Kosher convenience store in the area. Multiple law enforcement officers from several different agencies were responding to the scene, including agents with the FBI and the Bureau of Tobacco of Alcohol, Tobacco, Firearms and Explosives.
Multiple victims have been reported inside the store, though officials have remained mum on the specifics.
All 43 schools in the Jersey City School District have been placed on lockdown until the situation is resolved. The New Jersey Transit Authority said it was suspending bus service and the Hudson-Bergen Light Rail while the situation is on-going.
ABC 7 New York reports that a Jersey City police officer was shot in the shoulder when at least one gunman opened fire in a nearby cemetery and then fled into a bodega, where he continued to fire at officers. The initial shooting occurred at Bay View Cemetery, with the suspect fleeing to the bodega. One law enforcement officer characterized the shooting as an 'ambush.'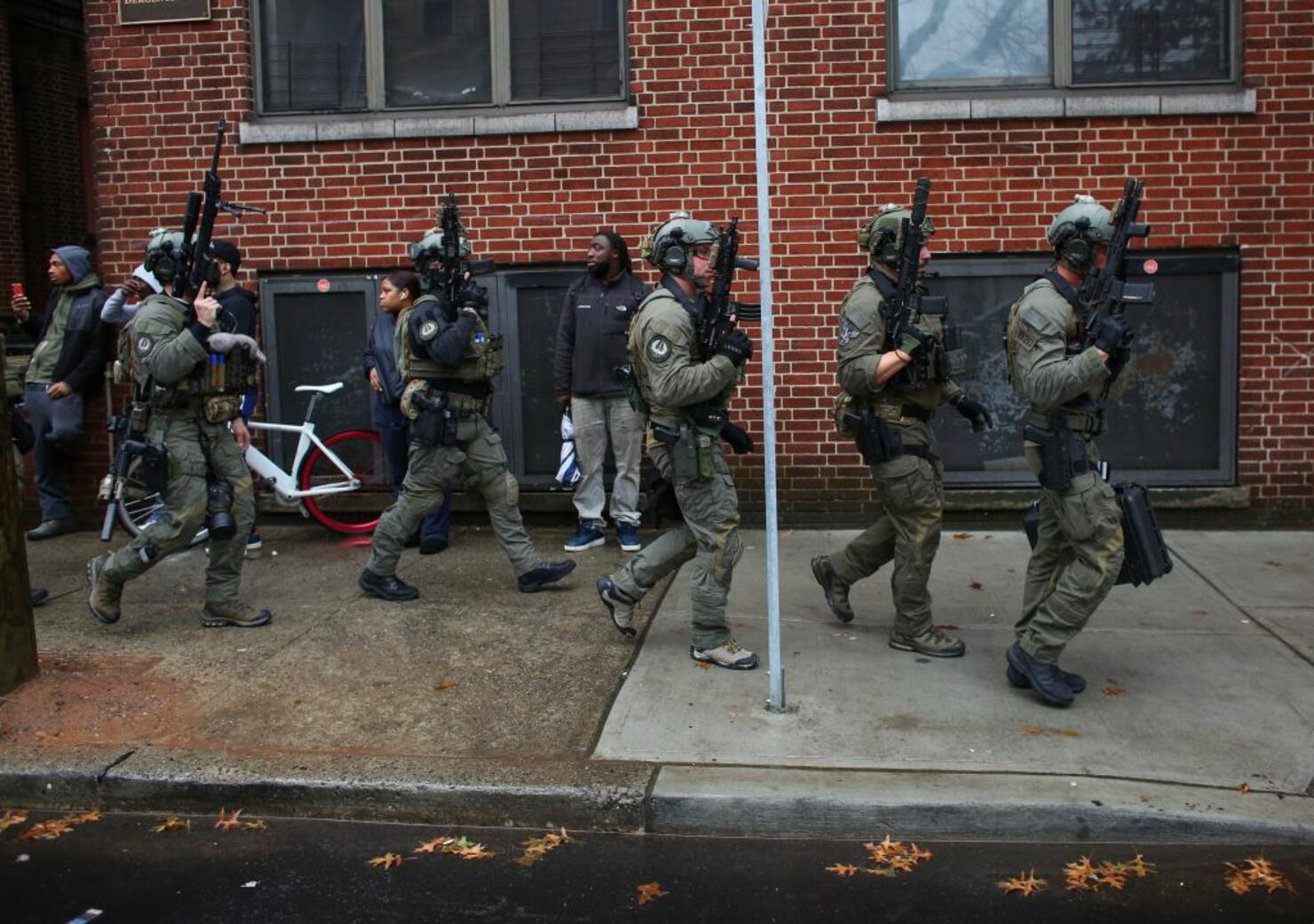 New Jersey Gov. Phil Murphy said in a statement that he'd been briefed on the active shooter situation and that he had "every confidence" in law enforcement personnel.
"I have been briefed on the unfolding situation in Jersey City. Our thoughts and prayers are with the men and women of the Jersey City Police Department, especially with the officers shot during this standoff, and with the residents and schoolchildren currently under lockdown," Murphy tweeted Tuesday afternoon.
Photo: Getty Images