Nick Cannon Drops 2 Eminem Diss Tracks, Sparks #RIPNick: See Em's Response
By Peyton Blakemore
December 10, 2019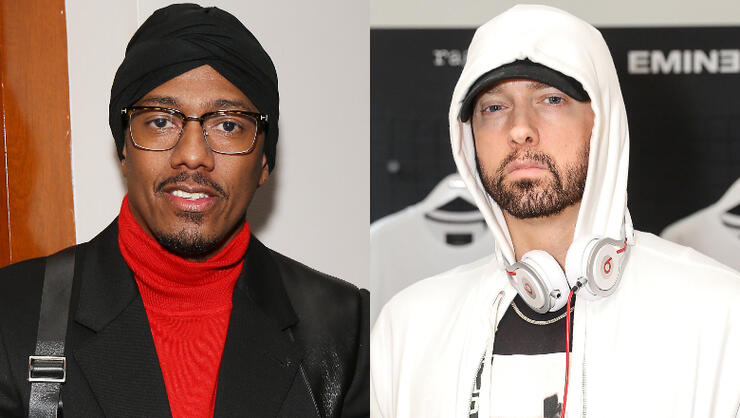 Nick Cannon wants all the smoke from Eminem.
After the legendary Detroit rapper reignited his decade-long feud with Nick, calling out the Wild 'n Out host and his ex-wife Mariah Carey in his latest verse on Fat Joe's new track, "Lord Above," Nick decided to come back at Eminem with a few bars of his own, dropping not one, but two diss tracks targeted at Slim Shady.
In his first diss track, titled "The Invitation," which dropped on Monday (December 9), Nick took shots at Eminem's daughter, Hailey, his ex-wife, Kim, and even Eminem's sexuality, accusing the "Killshot" rapper of having an affair with his chauffeur. "Call Kim, somebody get Hailey and that other kid you raising that ain't even your baby," Nick raps. The 39-year-old entertainer also referenced his ex-wife Mariah's old feud with Eminem, rapping, "My baby mama killed you off a decade ago/You still crying about it b*tch, now who really the h*e?"
"The Invitation" additionally features a Suge Knight assist, with the incarcerated Death Row mogul calling Em "a b*tch" on a recorded phone call from prison.
It didn't take long for Eminem to respond to the shady record. Not even 24 hours after its release, the 47-year-old rapper took to Twitter, writing, "U mad bro? Stop lying on my d*ck. I never even had a chauffeur, you bougie f*ck.🤡." He later added, "I demand an apology Nicholas, you've made my gardener so jealous!"
Cue the hashtag "RIPNickCannon," which is trending on Twitter as fans await Eminem's real lyrical clapback and throw shade at Nick's bars on "The Invitation."
Despite the backlash from his first diss track, Nick returned with a second diss record on Tuesday (December 10), titled "Pray for Him." In addition to Nick taking shots at Em, the song features members of The Black Squad taking turns going after the "Mockingbird" rapper as well.
"Lord forgive us/I know that it's kinda wrong/For five brothers this talented to be on one song," the track begins. "But that white boy, he is nice/But he crossed the black man, Jesus Christ/We gonna pray for him."
After the guys swap bars attacking Em, Nick comes in at the end of the song, rapping "No you debate and hated and viewed in America as a motherf**king drug addict/You'll never be a legend/ Now when you stop and start to stare at who's in the mirror/Look at all that f**king botox, b*tch I know you embarrassed."