Luke Combs Brings Out Keith Urban, Thomas Rhett At Sold-Out Nashville Show
By Blake Taylor
December 13, 2019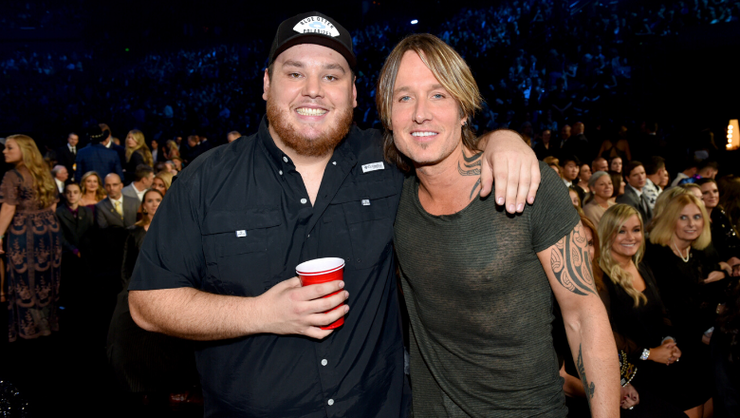 Luke Combs' massive "Beer Never Broke My Heart Tour" concludes with two back-to-back shows at Nashville's Bridgestone Arena. The first night, Thursday (December 12), the country star surprised the audience by bringing Keith Urban out to join him for a performance of "Hurricane."
After Combs finished singing the first verse and chorus, Urban made his way to the stage to sing the second verse. The stadium immediately roared with excitement as the pair continued on to finish the surprise duet.
In addition to Urban's surprise appearance, Thomas Rhett also joined Combs on stage earlier on in the evening. The "Remember You Young" singer teamed up with Combs for a performance of "Lovin' On You." The feel-good track comes off Combs' latest album, What You See Is What You Get, released in November.
Combs, who's extremely thankful to be on the big stage in Nashville, took a moment to reflect on his first trip to music city. At 20-years-old, he and some friends took a trip to Nashville to see Garth Brooks' benefit concert for the 2019 Nashville Flood.
"When I was sitting here, I couldn't even play the guitar," he said. "And here we are, 10 years later."
Combs later told the sold out crowd that although everything has his name on it, there are so many others who deserve the attention and praise as well. "Nowadays, everything has my name on it," he said, pointing out the guitar straps, drum kit, signs and T-shirts.
"But I want you guys to know there are countless amounts of people, yourselves included, who work so much harder than I do every day, to make sure that the show happens every night...the people scanning your tickets. The people pouring your beer. The people cleaning the bathroom. Nobody ever gives it up for those people, but they deserve just as much applause as I do."
"And last but certainly not least is you guys," he continued. "You guys came in here tonight, and you spent your (hard)-earned money to watch me play music, and that is not lost on me, and it'll never be lost on me."
Combs' 2019 Beer Never Broke My Heart Tour will wrap up Friday (December 13) at Bridgestone Arena. After a short break, he'll start back up for his 2020 "What You See Is What You Get Tour." Tickets for the tour are available now.
Check out Combs' performance of "Hurricane" with Keith Urban and "Lovin' On You" with Thomas Rhett below.
Chat About Luke Combs Brings Out Keith Urban, Thomas Rhett At Sold-Out Nashville Show