Travis Scott Likes Kylie Jenner's Sexy Bra Photos 2 Months After Split
By Peyton Blakemore
December 17, 2019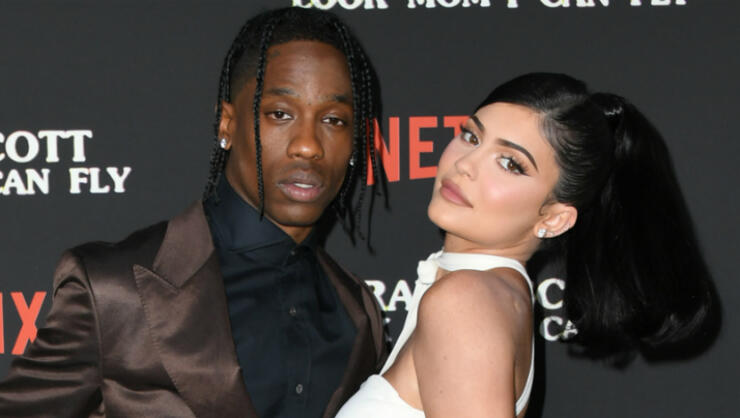 Are Kylie Jenner and Travis Scott back together? That is the question!
The on-again-off-again couple has not stopped fueling reconciliation rumors since they announced their split two months ago. Most recently, Travis led the charge of confusion as he "liked" a series of Instagram photos Kylie recently posted of herself wearing a strapless, cream-colored bra.
Ironically, Travis' "like" came one day before Kylie's sister Kim Kardashian admitted that she wasn't sure if Kylie and Travis were back together. While on the Ellen DeGeneres Show, the Keeping Up With The Kardashians star was asked if she knew the status of Kylie and Travis' relationship and she replied: "I honestly don't know, but I think that they are just really close friends and co-parenting amazingly".
Kim did, however, confirm that they're "definitely not engaged," setting the record straight about the giant ring Kylie has been known to wear on her ring finger.
While the 28-year-old rapper and 22-year-old business mogul announced their split in October that hasn't stopped them from spending time together. As fans know, over the Thanksgiving weekend, Kylie, Travis, and their 22-month-old daughter Stormi Webster were spotted on a trip to Palm Springs, E! News reported at the time.
According to the outlet, "Kylie and sister Kendall Jenner flew out first earlier in the week, on a private jet, and celebrated the actual holiday at mom Kris Jenner's home in the area, along with her boyfriend Corey Gamble and Khloe Kardashian and 1/2-year-old daughter True Thompson." Travis then reportedly joined them in Palm Springs and spent time with Kylie and Stormi, an eyewitness told E! News.
The site also reported that on Black Friday, "the adults headed over to the Agua Caliente Casino, where they played games like Blackjack and Poker and had drinks together." Travis is said to have looked he was on "great terms with everyone."
"They all stuck together at one table before Khloe went over to join her friends for a game," the source added. "Kylie and Travis then got up together and got drinks. They were strolling slowly, watching some of the table games, and were followed by Kylie's security."
A fan even captured a shot of the two walking together in the casino. See the video of their Thanksgiving hangout HERE!
Photo: Getty Images
Chat About Travis Scott Likes Kylie Jenner's Sexy Bra Photos 2 Months After Split