Pink Floyd Members Recall 1990 Paul McCartney Feud At Knebworth Festival
By Katrina Nattress
December 19, 2019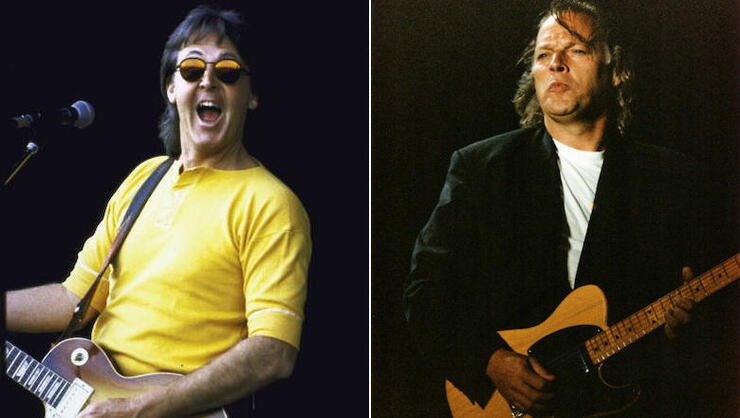 David Gilmour saved a juicy bit of Pink Floyd history for the final episode of his Lost Art of Conversation podcast: a fight erupting between their manager and Paul McCartney's at the iconic 1990 Knebworth Festival. The event was billed as the "Best British Rock Concert of All Time" and also featured sets by Robert Plant, Jimmy Page, Genesis, Eric Clapton, and Elton John, among others.
Album artist Aubrey Powell was at the festival and recalled that "there had been a great debate about who would finish the show."
"One of my better memories was the two managers of Paul McCartney and Pink Floyd arguing by the side of the stage at the closing moments of Paul McCartney's set – which was running over, probably quite deliberately – and of Steve O'Rourke saying, 'Get Paul McCartney off the stage right now!' And Richard Ogden, who was Paul McCartney's manager, saying, 'Well, you go and drag him off then!'" he said. "They were nearly at blows with each other."
However, according to Powell "much more dramatic was … the most horrendous squall" that came in just as the concert started. "This was a storm of unprecedented proportions," he said, mentioning that in the broadcast viewers could see Gilmour "virtually being blown off the stage. It somehow added to the drama of the day. I'm sure it was most unpleasant for the participants in the band, but actually for everybody in the crowd it was pretty remarkable."
The Pink Floyd guitarist didn't let the weather get to him, though. Gilmour thinks of Knebworth as being a "great show. I remember thinking, 'You can hide from this rain or you've got to embrace it. There's only one thing to do: Get out there and enjoy it.'"
Listen to The Lost Art of Conversation podcast below.