Queen's Brian May Discloses Annual Bout With Holiday Depression
By Andrew Magnotta @AndrewMagnotta
January 6, 2020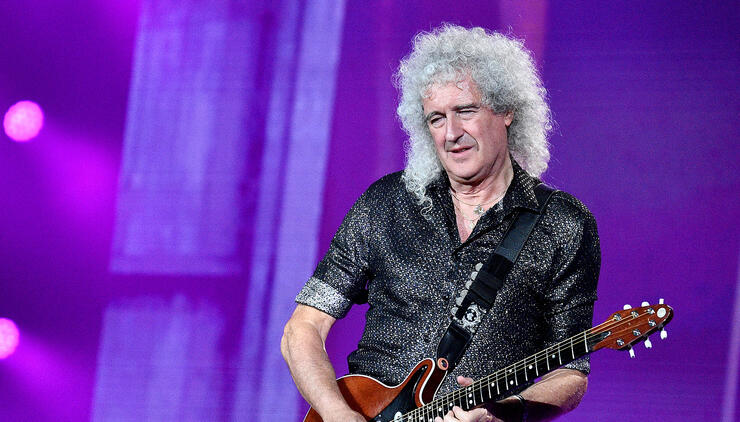 Like many people, Queen guitarist Brian May gets an annual case of the Christmas blues.
May made the revelation in a recent Instagram post in which he thanked his longtime pal, Joe Elliott, of Def Leppard for gifting him a gorgeous painting of his "hero" Jimi Hendrix.
After he thanked the fellow Rock and Roll Hall of Famer Elliott, May's post took a more grave turn when he explained why it had been a while since he'd posted a photo of himself.
"Most of this Christmas period I haven't wanted to show my face because my face was grim," he wrote. "There's something about this time of the year that paralyses me. Depression, hopelessness, fear ... I get engulfed. Is it logical? No. Should I be grateful for my life and therefore NOT depressed? Yes. But none of that makes any difference when you look up and the colours have gone out of the world."
As the learned May is no doubt aware, the "holiday blues" are a well-documented phenomena affecting millions of people each year.
Psychologists say widespread early-winter doldrums are likely a product of the emotional and financial pressures of holiday gift-giving, familial stress, cold weather (for the northern hemisphere) and a lack of sunlight.
Shrinks would applaud Elliott's gift, as one of the primary remedies for beating the year-end blues is to seek social support. It's clear the Def Leppard singer's gift found May at the right time.
Experts also recommend exercise, avoiding social media and a healthy embrace of relaxation; the holiday break is often a stark contrast to the rest of the year where people feel pressure to be constantly productive.
If your post-holiday lull lasts longer than usual, you should consider seeking help from a professional.
Getting exercise recently has been a challenge for May, who is also recovering from surgery to relieve pressure on his Achilles tendon. He also has a Queen + Adam Lambert tour of Japan, New Zealand and Australia to look forward to later this month.
For his part, the guitar legend says he plans to get his body moving again. He vowed plenty of stretching, "hot and cold showering" and some cycling to begin "wrenching" his mood back to normal. He's also spending January exploring a vegan diet, which is another thing to draw his focus.
Photo: Getty Images
Chat About Queen's Brian May Discloses Annual Bout With Holiday Depression