Rockets Strike Iraqi Military Base Where U.S. Troops Are Stationed
By Bill Gallucio
January 7, 2020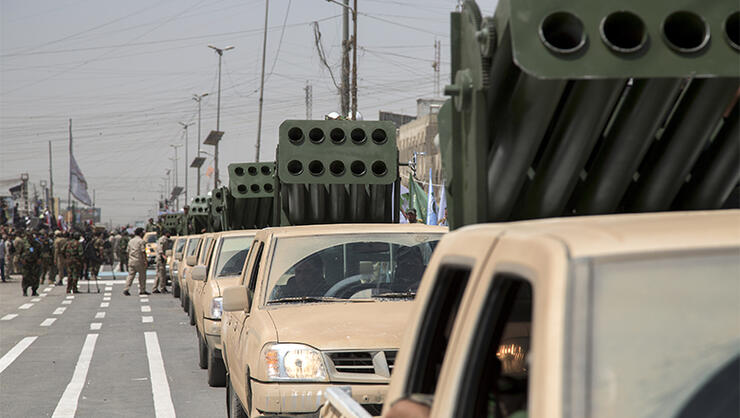 Several rockets have been fired at the Al Asad Air Base in western Iraq and a military facility in Irbil in northern Iraq. Iran's state-run TV network confirmed the strikes and said that Tehran launched "tens of ground-to-ground missiles" against U.S. forces in Iraq.
"This morning, courageous fighters of [Iran's Islamic Revolutionary Guard Corps'] Air Force launched a successful operation called Operation Martyr Soleimani, with the code 'Oh Zahra' by firing tens of ground-to-ground missiles at the base of the terrorist and invasive U.S. forces," the news outlet said.
Officials are assessing the damage and there are reports of Iraqi casualties.
President Donald Trump is monitoring the situation closely and is consulting with his national security team. He sent out a tweet, saying: "All is well."
All is well! Missiles launched from Iran at two military bases located in Iraq. Assessment of casualties & damages taking place now. So far, so good! We have the most powerful and well equipped military anywhere in the world, by far! I will be making a statement tomorrow morning.
The attack was at the same airbase that President Trump visited over Thanksgiving. 
The missile strikes come days after a U.S. drone strike killed Iranian General Qassem Soleimani. Following the attack, Iraqi lawmakers approved a resolution to expel U.S. troops from the country.
U.S. forces were on high alert for an attack after intelligence reports indicated that Iran was moving military equipment to prepare for a missile or drone strike.
Moments before news of the rocket attack broke, State Department Spokesperson Morgan Ortagus discussed the current situation in Iran with WSPD host Scott Sands and said that President Trump has shown restraint in dealing with Iranian aggression.
"President Trump has shown an incredible amount of restraint in the face of Iranian aggression … but, he has said, and Secretary Pompeo has said, 'Any attempt to harm American lives, any attempt to injure or kill Americans, would not be tolerated.'"
Photo: Getty Images.
Chat About Rockets Strike Iraqi Military Base Where U.S. Troops Are Stationed