Celebrity Trainer Jillian Michaels Is Under Fire For Body-Shaming Lizzo
By Hayden Brooks
January 9, 2020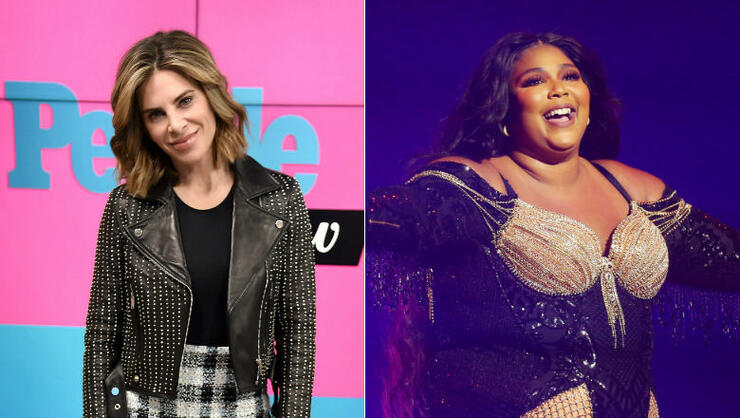 The Biggest Loser coach Jillian Michaels is under fire for her recent commentary surrounding Lizzo.
During the fitness guru's interview with Buzzfeed News' AM to DM on Wednesday morning (January 8), a host praised the self-acceptance messaging from the likes of the Bonnaroo headliner and Ashley Graham, but Michaels pivoted in another direction after that sentiment. "Love her music," she told the host. "I love her music 100%, I don't know anything about her but I'm sure she's a cool awesome chick. Why are we celebrating her body? Why does it matter? Why aren't we celebrating her music? 'Cause it isn't gonna be awesome if she gets diabetes."
Michaels later tried to differentiate her thoughts on Lizzo's music from her weight. "I'm just being honest. I love her music. My kid loves her music, but there's never a moment when I'm like, 'I'm so glad she's overweight,'" she continued. "Why do I even care? Why is it my job to care about her weight?"
After the Twitterverse blew up, Michaels took to the social media platform to clarify her remarks but it only seemed to intensify the fire. Scroll on below to see her response, as well as the back and forth discussion happening around the topic.
Lizzo spends hours every night singing and playing the flute during intensive dance cardio. Just admit that the only self worth you've found for yourself is in your thinness, Jillian, then go to therapy & do the work to love yourself.

— 🐺Mira (@LostWolfling) January 8, 2020
What Lizzo is experiencing is just horrible and cruel at this point. Like Jesus it's not just Twitter it's the media too https://t.co/izJtHZKHhR

— Chaos Agent Of Color (@daniecal) January 8, 2020
So many sensitive people on twitter...look past Jillian Michael's very direct persona and realize she's not wrong. Lizzo has monetized off of celebrating the "fat culture" and quite literally said love yourself and being obese is okay...when it's not. This isn't about "fatphobia" https://t.co/4cV3u08KZL

— joey ⚜️ (@thejoeyway) January 8, 2020
She's not being "criticized for fat-shaming" she's getting called out for being fatphobic and ableist, why are we not calling this what it is?https://t.co/xVzUNpUkbh

— Kristin Chirico (@lolacoaster) January 8, 2020
You cannot be physically fit and also be obese. Those two are not synonymous. If Lizzo were "fit" she wouldn't weigh 300+ pounds. Please stop normalizing and praising obesity when it's inarguably an early death sentence. https://t.co/cUQGnqCltU

— Cat (@CatCreighton) January 9, 2020
I just really wish y'all would leave Lizzo's name out your mouth and let her be great!

— Kalen Allen (@TheKalenAllen) January 8, 2020
Fascinating that there are skinny white dude celebs who smoke two packs a day and have the cardiovascular system of a block of granite who are never critiqued, and yet, there are folks out here erroneously and bizarrely insinuating Lizzo is at risk of diabetes.

— Charlotte Clymer🏳️‍🌈 (@cmclymer) January 8, 2020
If I had been exposed to more Lizzo and less Jillian Michaels when I was younger, maybe I wouldn't have spent half my life hating my body. https://t.co/tUs4NYesS5

— Ashley Fairbanks (@ziibiing) January 8, 2020
We celebrate @Lizzo's body because she inhabits it with love & teaches us to do the same. She holds concerts that involve hours of singing, dancing & athleticism in a body that society has long profited off hating & stereotyping. Every body deserves compassion & celebration. 💞 https://t.co/aKvSaIw89F

— Sharanya Haridas (@haridassharanya) January 8, 2020
More people die from complications of anorexia than any other mental illness, but sure, let's ask for Lizzo's bloodwork.

— Michal is Mandalorthodox (@inkasrain) January 8, 2020