"Megadeth Is Back," Declares Band Ahead Of Five Finger Death Punch Tour
By Andrew Magnotta @AndrewMagnotta
January 9, 2020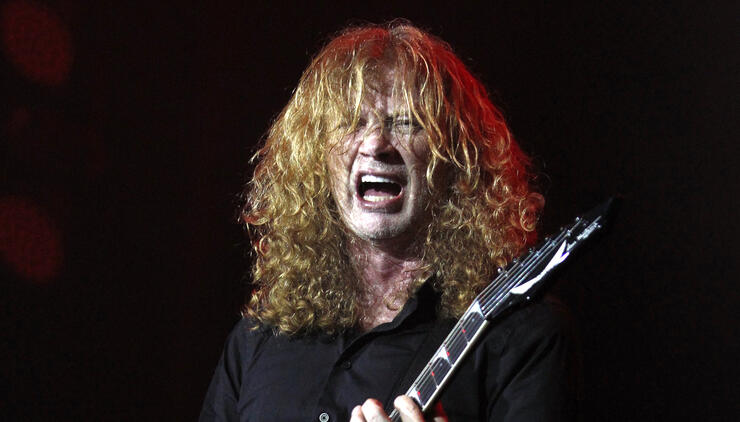 Megadeth and Dave Mustaine are getting back on tour just a matter of months after Mustaine declared victory over throat cancer.
Mustaine revealed his cancer diagnosis last June, and the band subsequently canceled all of its remaining 2019 live shows while the front man could undergo treatment.
Megadeth kept busy during the unplanned break, writing and recording its upcoming album with Mustaine from his Tennessee estate.
After completing treatment this past fall, Mustaine told Rolling Stone that he felt healthy again and believed he would be strong enough for his band's planned European tour with Five Finger Death Punch this winter.
So as there's no confusing, Megadeth recently clarified that it would indeed be performing on all 20 dates of the tour.
"Megadeth is back!" the band said in a statement. "We can't wait to see and play for you all on the Killing Road in 2020! What songs do you want to hear?"
The first date of the tour is January 20 in Helsinki, Finland. The tour concludes on February 20 in Budapest, Hungary.
While Mustaine admitted that he was crushed to be unable to attend the band's inaugural MegaCruise in October, he said he was heartened by so many positive messages from fans and fellow musicians, including Ozzy Osbourne and KISS's Paul Stanley.
One of the most significant messages Mustaine says he got was from one-time Metallica band mate, and longtime frenemy, James Hetfield.
"Most notably, I got a text message from my old brother, James Hetfield, and I was so, so happy to hear from him," Mustaine told Rolling Stone. "Contrary to what anybody says and contrary to any of the act that we put on, I love James and I know that James love me and cares about me. You can see that when the moment of truth is here and I'm telling the world that I've got a life-threatening disease. Who comes to stand next to me? James."
Get all of Megadeth's tour dates here.
Photo: Getty Images
Chat About "Megadeth Is Back," Declares Band Ahead Of Five Finger Death Punch Tour