Prince's Longtime Photographer Reflects On The Intimacy Of New Photo Book
By James Dinh
January 9, 2020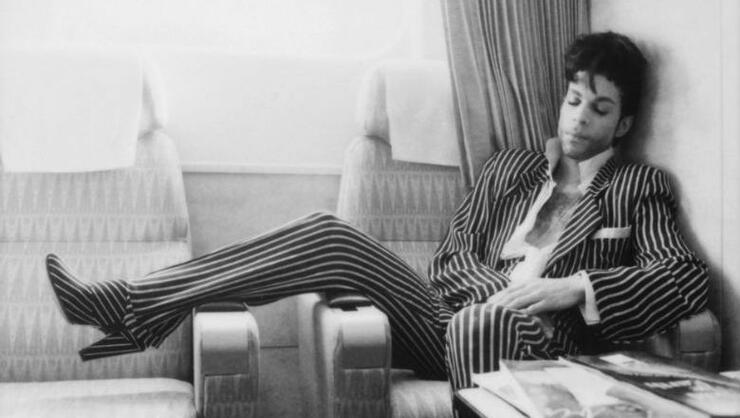 Imagine picking up the phone to hear Prince ask you to jump on a plane with an hour or two notice to put together a crew in a city that you've never been to. Now, imagine being told that he wants you to do so at four in the morning. Or that he wants to add footage to a music video that you've completed and prepared for an early morning deadline imposed by MTV. That was photographer/director Randee St. Nicholas' life for almost three decades and the industry veteran illustrates his unique personality, spontaneity and unparalleled obsession with music in her gorgeous (and massive) new photo book, My Names Is Prince.
Conceptualized, alongside the late, great superstar prior to his death, the estate-approved hardcover memoir serves an an intimate look at the many sides of one of music's most beloved icons with almost 400 glossy pages of photography and stories. Speaking with iHeartRadio, the famed photographer, who has shot everyone from Whitney Houston to Britney Spears, recounted her one-of-a-kind relationship with the Purple Wonder, admitting that she never wanted to disappoint him. Unsurprisingly, he was incredibly self-aware and picked up on Nicholas' loyalty early into their relationship. He'd also find ways to challenge the star to expand her own creativity. In fact, he's the reason she decided to get behind the camera and direct, starting with his 1991 music video for "Gett Off."
"You never want to let anyone down. We don't want to let ourselves down as creative people," Nicholas told iHeartRadio. "But for him, no matter what challenge he threw at me, and believe me, there were so many of them and they were impossible, but I would say to myself, 'There's no possible way I'm going to make this happen, but I'm going to make it happen because I don't ever want to let him down.'"
Even after years of friendship, Nicholas admitted that Prince is still an enigma. Yet, for a man of few words, the memoir does its job at illustrating the musician in a way that hasn't been done before. Scroll on below to read our exclusive Q&A with the woman who managed to capture the big, the intimate and all of the little stuff in between.
The memoir is, in part, a commitment that you started 10 years ago with Prince. How does it feel to have the piece complete and available for fans?
It's a double-edged sword. It's been a cathartic journey working on it without him. For our last book, which is called 21 Nights, I did the entire book and then just showed it to him when it was done. He loved it and didn't make any changes. So, that part I wasn't so worried. But it's so important to get it right, whatever that means. The idea that it's finished is the idea that he's actually no longer here because the whole time I was working on it, I really felt like he was right there with me over my shoulder. It's so funny because I'd look at all these pictures and I was like, "Oh my God, should I use this one?" And then I felt like I'd hear his voice just say, "Don't trip over that, Randee. You've got it."
It's sort of a safe thing that he's not here because I don't really think that I've really faced it, to tell you the truth. I don't know if you've lost people close to you, but it's so hard to believe they're gone. I still think he's going to call any minute and that he's out there doing his Prince thing, you know?
At the beginning of the book, we see your first photoshoot and then we go through your extensive work with him. I'm sure that was a lot to internalize.
Because you're reliving all of those moments. I, in general, just live in the present. I don't really ever look back or think about the work I did before, or what I'm doing tomorrow. I'm just there in the moment because, obviously, I'm capturing imagery of people who are present in that moment. To look back over 25 years of working with him was also looking back at 25 years of my life, and I'm not a person who ever does that. It was a pretty emotional experience on many levels.
When you're working with Prince, you're working with Prince, but you don't really relate to him as Prince. You relate to him as the subject you're working with. But then when I'm looking back at all these pictures, I'm like, "Oh my God, that's Prince." It's really an incredible discovery of so many things, not to mention how profoundly he affected not only my life, but the lives of everyone that was close to him, and the lives of the world, obviously with his music. But for us on the personal level, there was so much to be learned from him because he really pushed himself creatively, and so therefore he pushed all the rest of us creatively, and I really feel like I would not be as much of a free spirit when I work, and just able to just be completely flexible, if I hadn't worked with him.
Because of that little to no notice, how did that spontaneity work with your own approach to photography?
It was great because, again, you're just living in the moment and you're creating with what you have. I know a lot of people overthink things. I don't have that kind of brain that overthinks it. I'm a person who gets really enthused. I could be driving down the street like I was when I saw that building on fire and made a turn and decided to shoot Prince with a baby grand piano in five minutes. What that is is I think just being tapped into some creative energy that's floating around out there that we all hope we receive...I think it's just tapping into that universal consciousness of creativity. It is such a gift to be able to work that way. And believe me when I tell you, Prince was tapped in.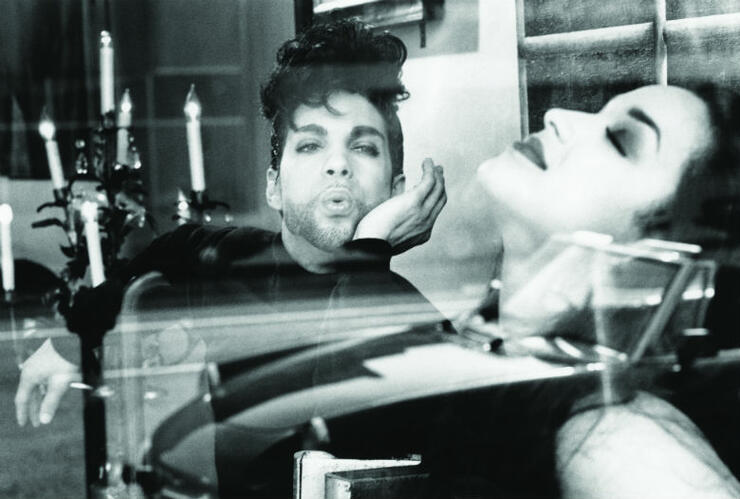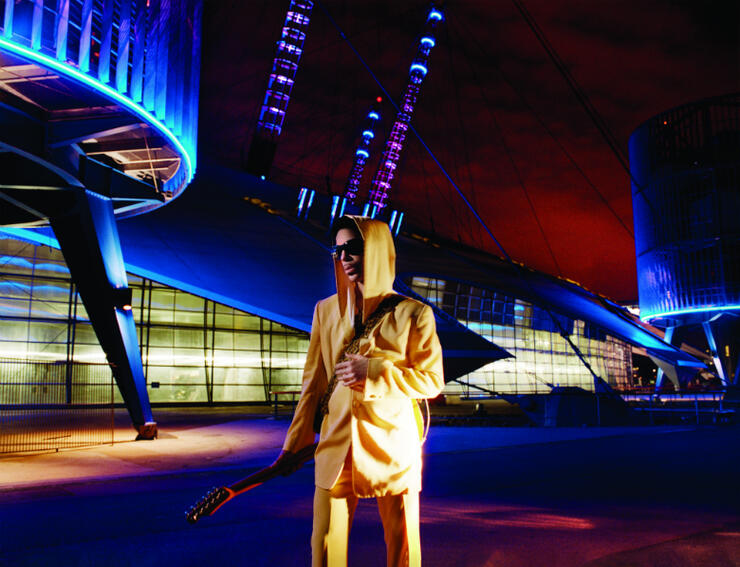 It's nice to hear you say that because I thought about the logistics. I thought about set-up, props, lighting and all of that, but the energy is the second half of it.
The energy of it is everything. Obviously, because that moment that we were creating was a moment and if you missed it, it was gone. I think that is how Prince was in life. That's why he wrote music every single day and would record it, and then put it away. He didn't belabor anything in his life. He literally trusted himself creatively completely and he would just do what he did.
Do you remember your first memory of Prince prior to working with him?
Some friends of mine in a band called Shalamar asked me if I would come to the premiere of Purple Rain with them...Obviously, I had been photographing them and, so I went and that was my first time seeing Prince in-person, which was quite a remarkable experience.
That's such a great memory to have experienced him in that era. Now, you mentioned during that first photoshoot that you experienced something different with him. You felt this special kind of warmth. How did you process that exchange?
I wrote it in the book that when he wanted to leave, when it was time for him to go, he reached out his hand and I held his hand with both of my hands and he said to me, "Don't worry, I'll be back." I must have subconsciously not wanted to let him go. I remember that day so well because it was such an incredible experience that I remember consciously saying to myself, "Wow, I don't want this day to end." I love my work, so I feel like that all the time. I can always outlast anyone I shoot because if they want to stay late, I can shoot all day and all night because you get so inspired.
The book features all kinds of imagery. Were there any images that you felt that you wanted to keep for yourself or maybe too personal to submit?
There was quite a lot of images to go through. The book put itself together, but one of the creative ideas I had when he and I had talked about it was just not in a chronological order, but just to document and let people see the many sides of him that I saw. It pretty much shows. No one's ever seen Prince shaving before. He was really shaving, not just shaving for the picture. There's a lot of intimacy in there and then a lot of private feeling of solitude and almost feeling of loneliness in some of the pictures that I have seen when I look at them that I captured. If he let you in, he let you in. I was really lucky because somehow whatever the connection was between us right from the beginning, he let me in and let me see him.
And at the same time I was seeing him, as you can tell, like if you look at the cover of the book, the reason I chose that picture is we were all looking at him, but he's also looking at us. He had this way. If you interviewed a dozen people that were in his life, they would all have the same story. They might tell it differently than me, but when you were with him, you felt like there was no one else in the world. He gave you his full attention. He saw you. He listened. His communication with you was open, funny, hilarious. So you really felt seen. That's the best way to describe it.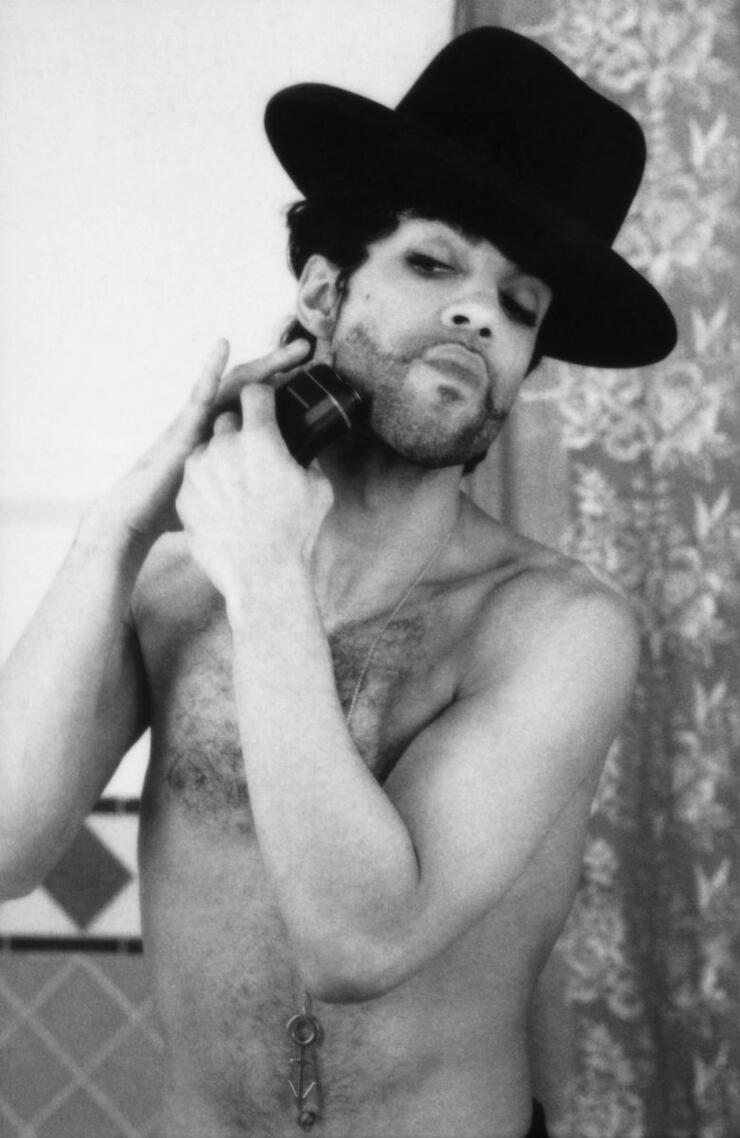 I think you did a good job at capturing his sense of humor, especially when you get into the "Get Off" music video and how it was your directorial debut. What did you learn about capturing him that you had not known previously?
He came to life. When you're doing portrait photography, because of the stillness of it, you tend to see one thing. When somebody moves and is allowed to sing and dance, obviously there's a whole other dimension to it. The thing about him was he was who he was no matter what he was doing. If he was having a hot fudge sundae with you, he was still Prince. He was other worldly no matter what he was doing. When I did the music video, I realized the same thing I would realize when I'd see him live; that this is a guy with literally no limitations.
When you look back at all the years spent with him, what's your favorite memory? What sticks out in your mind?
There's some very personal memories. One of the things that I think about sometimes, especially when I'm feeling ... You know how sometimes you think, "Am I a fraud? Or am I true to what I do?" I don't know if you ever feel like that. He's given me the most incredible compliments of anyone I've ever known. One reason is because he's Prince, and he's a genius and he's profound. The other is that he does not talk that much. There was not a lot of personal talk between us. It mostly was about work or we'd talk about huge subjects like religion, art, and music. But the compliments that he gave me way surpassed just whatever my creative energy is. Just about me as a person.
I think that's why this book is so important. It gives us insight into a star who was rather elusive and helps prolong his legacy or introduce him to a new generation.
Thank you so much. That was my hope for it. My hope is if you love him, you love him more because without taking away any of his mystique, which you could never do because the guy, I still don't know him after 25 years. I have no idea. I still think he's going to come walking in here and go, "Okay, well that was a test. I just wanted to see what you would do if you thought I was gone, and you did good." Or if you didn't know him, you'd become interested in knowing him, listening to his music and seeing the fascinating character behind this mystique a little bit. His ability to transcend any stereotype of music, or not just music, but I think he kind of bridged the gap of segregation of music. You know how music is put into all these categories?
He transcends all these categories because he plays every kind of music and he's inspired by every kind of music, and he incorporates every kind of music into his music. I think those are really important things for anyone to know, for the youngest generation to the generations that grew up with him.
This conversation has been edited for length and clarity.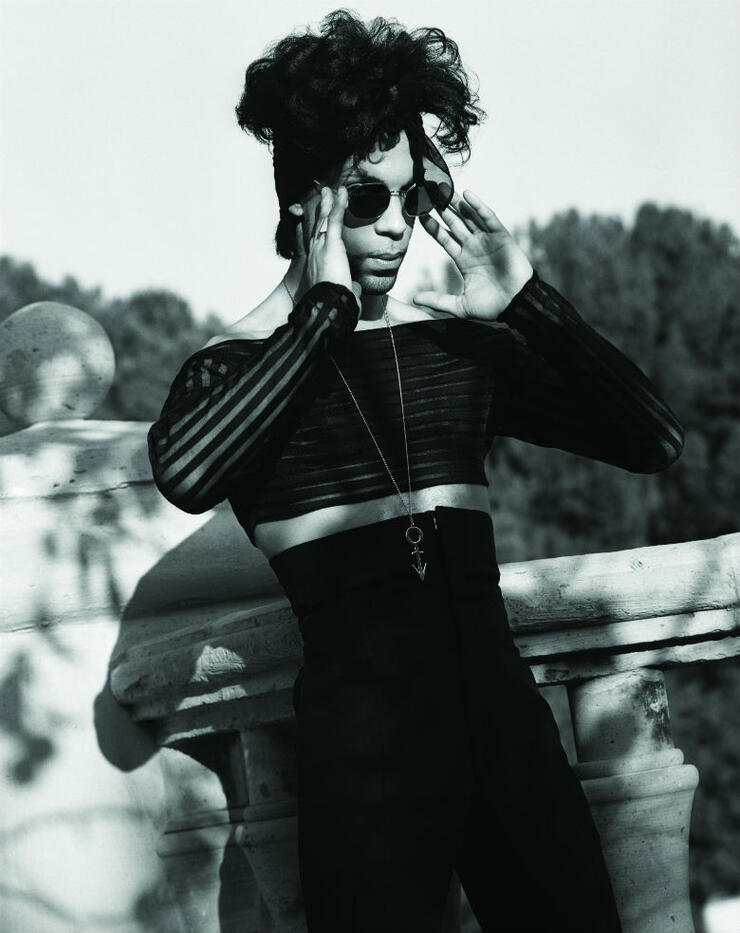 Photo: Randee St Nicholas