Selena Gomez Explains All 13 Tracks During Emotional 'Rare' Release Party
By Sierra Marquina
January 10, 2020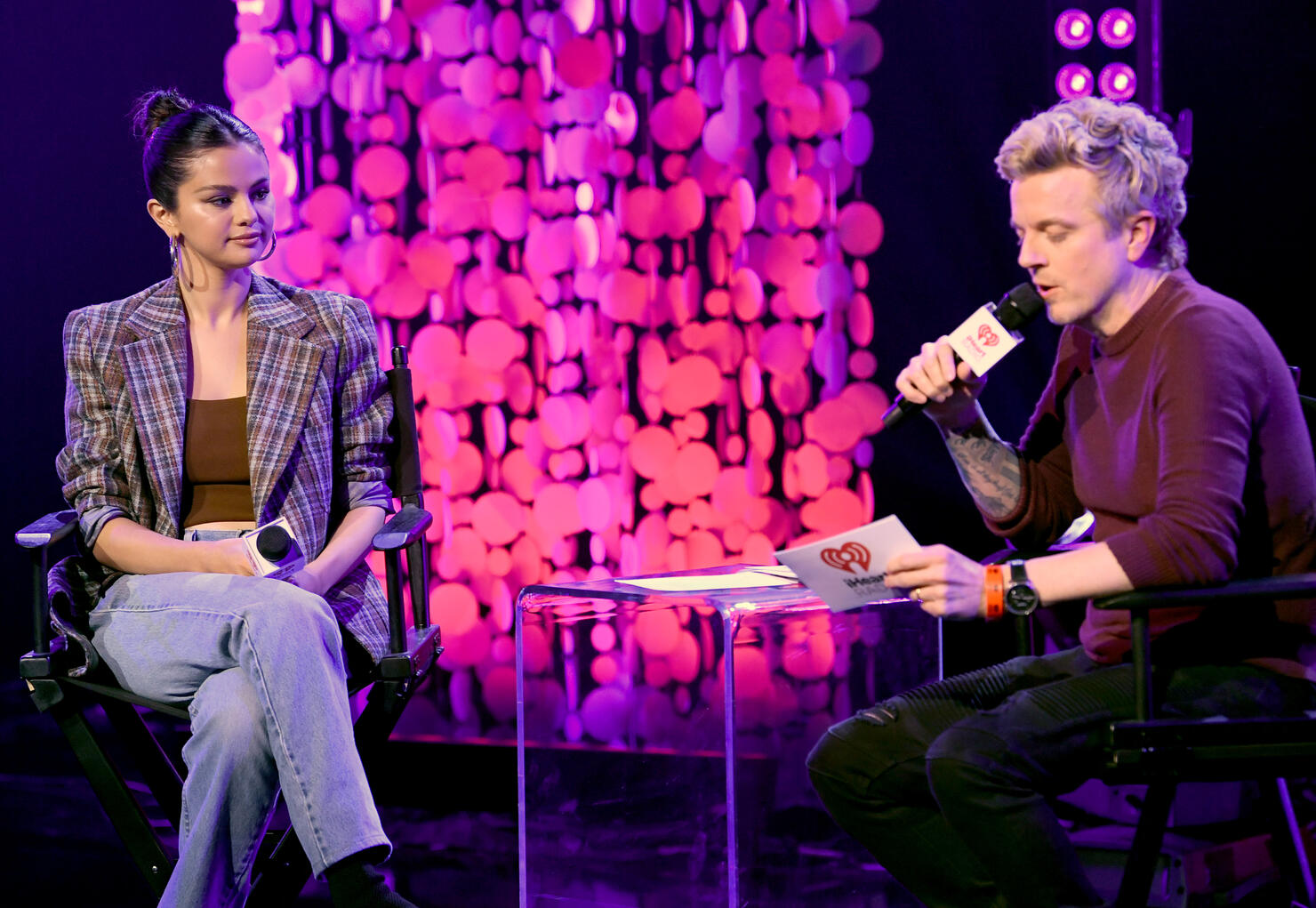 Worth the wait — and journey to self-love and acceptance. Selena Gomez opened up to fans during a candid and emotional iHeartRadio Album Release Party in Los Angeles on Thursday, January 9. The "Lose You to Love Me" singer previewed her highly-anticipated third studio album, Rare, ahead of its release and shared with fans the four year-long recording process was a healing one she's profoundly proud of.
"I've obviously gone through some stuff," Gomez told host JoJo Wright while reflecting on the time between albums. "… And throughout the years, this is what's kind of gotten me through the past few years."
The songstress, who gained her first-ever No. 1 song with raw track "Lose You to Love Me," which is inspired by her headline-making on-again, off-again relationship with Justin Bieber, explained she's glad she didn't rush the process either because of the span of growth the record reflects.
"I've kept the recording of the songs from two years ago, three years ago, [and] I'm really glad," she explained, adding that if she had rushed it, emotional and cumulative track "Lose You to Love Me" wouldn't exist. "… It never felt like it was complete. … I gained so much confidence and understanding of who I am," she said in regards to binary tracks "Lose You to Love Me" and "Look At Her Now."
Gomez admitted her palms were sweating during the listening party and while she's "spastic and always nervous," she felt the need to tell her side of the story — as hard as it can be.
"People had already narrated their own story for me," she continued. "And if you know me, you know that's something that frustrates me. … I wanted people to hear my side of it because I deserve that."
Releasing the diary-like track was therapeutic for the songstress who admitted that while she's in a much better place, she doesn't hide confronting depression and anxiety on the album.
"I'm happy and a little confused still, but so happy I went through that," Gomez reflected. "… In order for the people to see I'm not a victim. … [Like] I don't need to act in the manner of always getting down at myself. … I'm very, very excited [to release Rare] more because of my fans," she added. "I think for me they've all walked through so much of it and I almost felt this was my gift because now you can understand what's going on in my head a bit and I missed the connection music has. … It feels so good to be able to be back with everyone."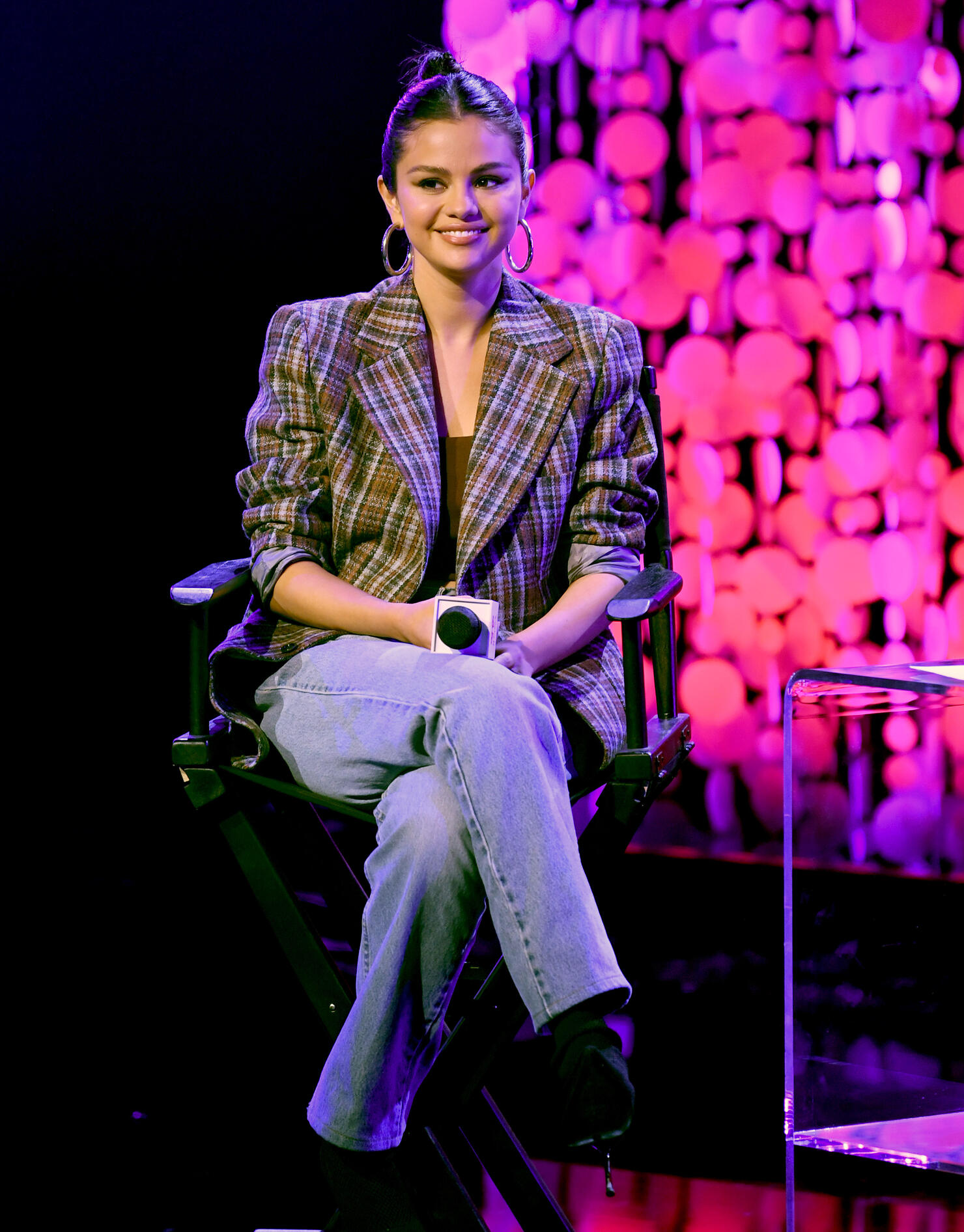 Gomez previewed each track and offered a lyrical deep dive during the livestream and radio broadcast as well as dished what it was like to record the album over the course of four years and work with the likes of Kid Cudi and 6lack. Find out everything we learned below:
On Why She Named the Album "Rare":
"Because 'Rare' is the song that I wish I could actually say personally to every single person. I think there's so much going on … it's just so much pressure and everybody thinks they have to look exactly the same and the truth is you don't … and I felt that way … and this song is the opposite of that."
On Revival Versus Rare:
"That's like saying what were you like from 20 to 25 — there's so much that happens. … I feel like it's not better, but a piece of work that I think is better. And you can tell I've evolved so that's good."
On Who She'd Preview or Share Songs With While Recording:
"Normally [I preview songs for friends and family] sometimes [and] I think with this album, I purposely didn't. … I can be [like], 'OK, so if you don't, I won't.' I can get too in my head about it so I didn't until towards the end. ... I didn't want anyone else to chime in."
The Meaning and Story Behind Song "Fun":
"I work with Julia Michaels and Justin Tranter all the time — they're my people — and Julia and I tend to be super emotional and when we write … we're a bit gut-wrenching. It's just in our nature. ... And my label and a few other people were like, 'We should do something fun.' … And Julia was like, 'Let's just name the song 'Fun.'"
"The whole objective of the song was me being free spirited and excited to flirt again and get back in there."
The Story Behind Song "People You Know":
"One of my friends … she's an amazing songwriter … and she had played it for me … and I kind of heard it and I was like, 'That's cool.' … And when I heard the words, it actually was so spot on. Whether it's friendships or relationships … it's such a matter-of-fact: people can go from people you know to people you don't."
On Her Recording Process and How Studio Sessions Are:
"It's very intimate. I like colors so I tend to sometimes have colors in the room and I'm not sure why, but it makes me feel inspired. The most I'll have in a session for me is four [people] and I don't like usually more than that. … It's very mellow; there's usually a lot of food and tea and blankets and place for my dog to sit."
"I've cried multiple times in the studio … [Julia Michaels and I will] talk for hours before we end up working. I don't know, I just love her. She's like a soul sister of mine."
The Meaning Behind Song "Dance Again":
"The purpose and the meaning of this song is that you can be vulnerable, you can have all these feelings, … but now I'm ready to let loose and it's so cheesy, but I've gone my step back … and it feels good."
On the Most Empowering Song on the Album:
"I think my song 'Vulnerable' because I've always been one to say that vulnerability is strength — it's not something that makes you weak. … I love this song and love how it feels."
On Track "Ring":
"Ring is sassy. I don't know if I can say the real meaning behind it [on here]. … The point of it is it's a confidence. … It's all about feeling good about myself and being able to kind of be intimidating to guys and my voice sounds very different on this record as well."
On Collaborating With 6lack and the Meaning Behind "Crowded Room":
"I had recorded 'Crowded Room' a few years ago and knew I always wanted someone to be on it and I wanted a male to be on because the song [is about] 'even if we're in a crowded room, it's only me and you.' … I didn't want [anyone else than 6lack] so it was like, 'Can you?' And then it happened so it was [like], 'Thank you.' And he sounds unbelievable … I'm very, very grateful for 6lack."
"I think this is a very sweet song. … I have this couple friend and they're married and they're so great together. ... One of the cutest things that they do is they have to go to a lot of social gatherings, and every now and then -- they made a deal -- that if you made eye contact from across the room, [you lift up the No. 1 finger], and it means you're my No. 1."
Gomez added it's a "fun couple song" that she imagines duos jamming to.
"What I'd wanna do with, [well], no one I'm dating right now," she jokingly added.
On Track "Vulnerable":
"[It] started talking about faith and ... the hardest thing in the world is to forgive someone. … There comes a point where forgiveness is necessary, but also something you need to release and this song is called 'Vulnerable' because no matter how much someone puts me down, I'm still gonna be me."
On Her Dream Artist Cover:
Adele covering "Lose You to Love Me"
On Track "Let Me Get Me":
"[It's about] am I going to stay in a place where I'm stuck? Or am I just not going to do that anymore to myself and keep going?"
On Track "Sweeter Place" Reflecting Depression and Anxiety:
Gomez pointed out "Sweeter Place" lyric "holding hands with the darkness and knowing I'm allowed" and explained: "I feel like I'm saying a lot of different emotions … [but] I had to learn so much of it to not be afraid of it. … [Like], you're allowed to feel them and then let them go."
"I think all I want with this record is for people to make it there ow," she added. "The words mean so much and I just want people to turn these messages into something great and to feel good because it's really hard to listen to what's going on in the world. … I wanted to be a voice for people that may have experienced the feelings I have had."
On Track "Kind of Crazy":
"[I wrote the song] three years ago and the style of it is something I'd never really done before. … It's a song saying, 'I get it. We have our thing. I never understand, but sometimes you're just kind of crazy.' … I think everyone has that in their relationship and if not, tell me your secret."
On Track "Cut You Off":
"['Cut You Off' is] another one that's kind of like brushing it off and it's explaining there's so many places I could go, so many things I could do, not being held down by something."
On Track "Sweeter Place" and Working With Beloved Kid Cudi:
"It means so much to me because I have one of my favorite artists on this song. … And when I was in the studio, sometimes I get burnt out, and I just said, 'Let's just do something weird.' And I mean this in a compliment, like, something weird Cudi does. … So I was extremely honored to have worked with him and we sent the song and he called me and said …'What do you feel like I could contribute?' And I said 'I would love for you to take the song and produce it.' And that's kind of scary … so I just trusted it and he was in Italy at the time and then we went into the studio for two days … and I watched him in awe … and we had the greatest time."
Gomez concluded the intimate sit-down by again thanking her fans for their unparalleled support.
"I wanted to say thank you so much to all of you just for staying with me through all of this," she shared holding back tears. "I wouldn't have been able to survive most of the past few years if it hadn't been for you. … You mean the world to me."
Photos: Getty Images