Future & Drake Drop 'Life Is Good' Single & Music Video
By Lauren Crawford
January 10, 2020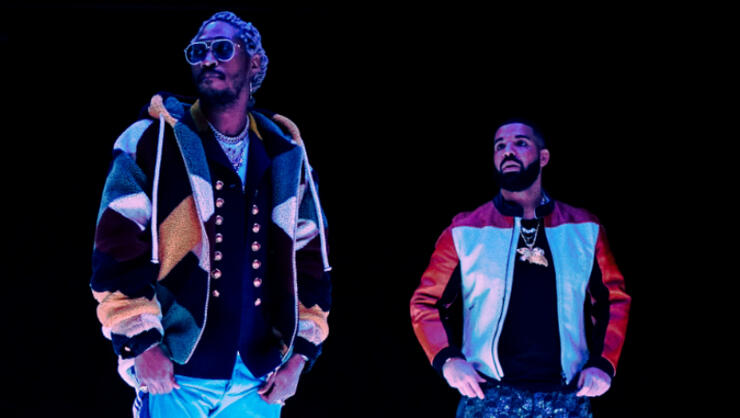 Future and Drake are back with new music!
The longtime collaborators dropped their long-awaited single "Life Is Good" on Friday (January 10). The track, produced by Oz and D. Hill, marks the rappers first collaborative effort since 2016's "Used To This" and hopefully the first track off of their rumored What a Time to Be Alive follow-up!
Drake supplies the first portion of the track, rapping the chorus right off the bat: "Workin' on the weekend like usual/ Way off in the deep end like usual/ Ni**as swear they passed us, they doin' too much/ Haven't done my taxes, I'm too turnt up/ Virgil got that Patek on my wrist goin' nuts/ Ni**as caught me slippin' once, okay, so what?/ Someone hit your block up, I'd tell you if it was us/ Manor house in Rosewood, this sh*t too plush."
The beat then switches up for Future's bars, as he delivers his usual raspy flow over a slower trap beat. "Yeah, hunnid thousand for the cheapest ring/ On a ni**a finger, lil' b*tch, woo," he raps. "I done flew one out to Spain to be in my domain/ And Audemar'd the b*tch, woo/ Dropped three dollars on a ring/ Call it Bentley truck, lil' b*tch, woo I was in the trap servin' cocaine/ I ain't been the same since, woo."
Not only did Future and Drake grace fans with the highly anticipated track, they also came through with the single's music video, whose concept was envisioned by Drake along with Director X.
The cinematic visual shows the rappers taking on various 9-to-5s, working as sanitation workers, mechanics. chefs, IT specialists, smartphone technicians, and fast-food workers. Fans got to see a glimpse of the fast-food scene a few weeks ago after Future and Drake were spotted filming at an Atlanta McDonald's.
The music video additionally features cameos from Lil Yachty, 21 Savage, Big Bank Black, and Mike WiLL Made-It.
As fans know, "Life Is Good" has been a long time coming. While it's not yet known if the single, which is officially billed as Future featuring Drake, is the only Future-Drake track in store for fans in 2020, the duo have been teasing a follow-up to their 2015 collaborative mixtape What a Time to Be Alive for almost a year. Last April, after Drake brought Future out for his London show, the Atlanta rapper hopped on IG with Drake and teased that he and the Toronto rapper were working on it.
"What's that?" Drake said in the video as he held up two fingers, seemingly meaning What a Time to Be Alive part two is on the way. "We gotta cook that up. That two."
"It's already cooked up," Future responded. "Top secret."
Photo: Getty Images
Chat About Future & Drake Drop 'Life Is Good' Single & Music Video