Rock Legends Pay Tribute To RUSH's "Hero" Drummer Neil Peart
By Andrew Magnotta @AndrewMagnotta
January 13, 2020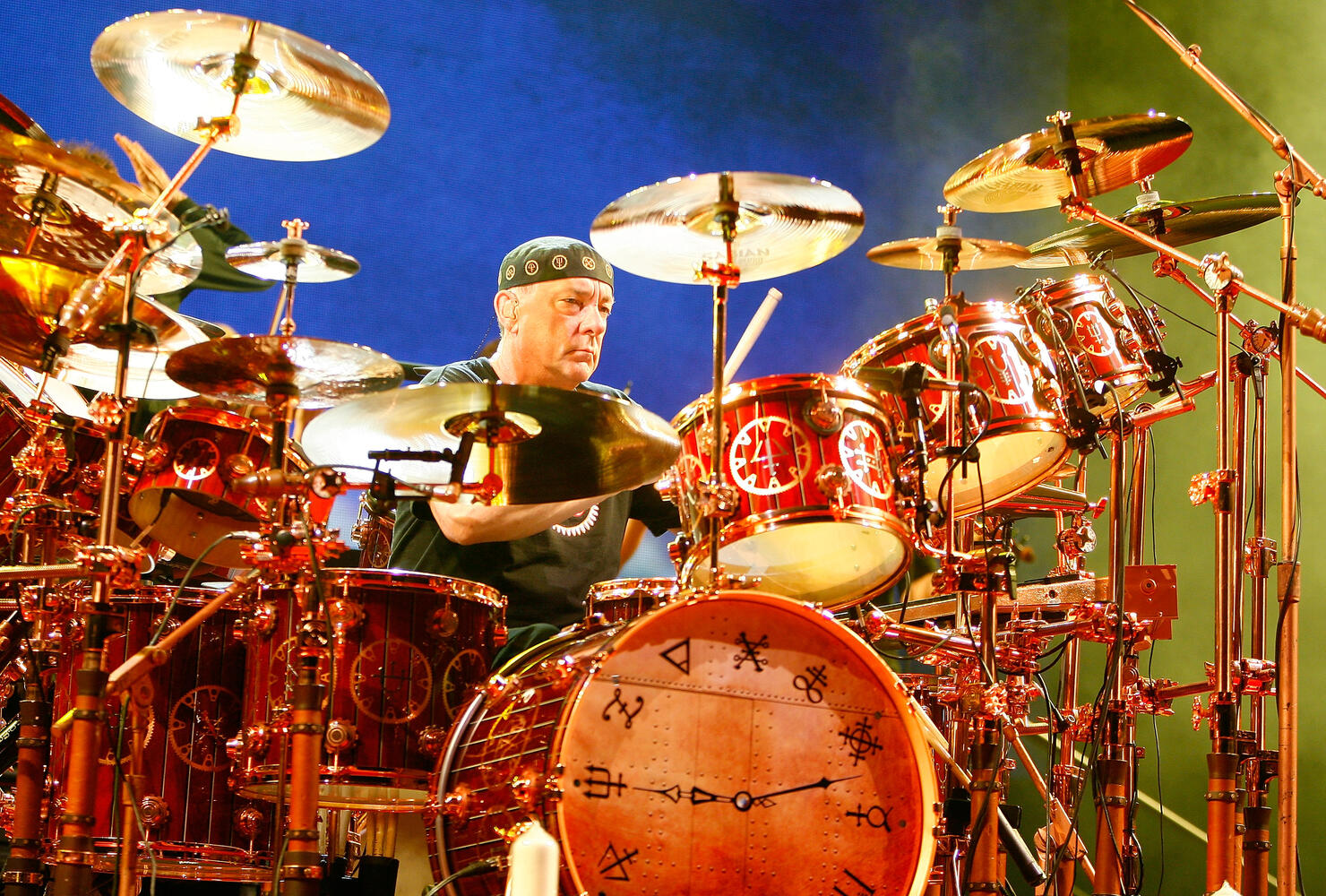 After the shocking news of the death of Rush drummer Neil Peart, fellow rock royals are addressing the passing of a legend.
Through his lyrics and astonishing technical achievements at the drum kit, Peart became one of the most influential drummers in history. His name is often mentioned in the same breath as the likes of Buddy Rich, John Bonham and Ringo Starr.
Peart died last Tuesday at age 67, after a three-and-a-half-year bout with brain cancer. Peart's family and the band kept the news out of the press until Friday.
Ace Frehley fondly recalled Peart as a "precise and innovative drummer" and "a good friend" going back to Rush's early tours in the '70s supporting Kiss. While Peter Criss dubbed Peart "a hero to all of us drummers."
Paul Stanley added that he was "shocked" by the news and offered a clip of one of Peart's solos as testimony to his percussive genius. Gene Simmons added that Peart was "a kind soul."
Foo Fighters' tandem Dave Grohl and Taylor Hawkins, who together inducted Rush into the Rock and Roll Hall of Fame in 2013, offered separate statements via Foo Fighters' social media.
Hearing "2112" was a watershed moment in Grohl's life that inspired his love for the drums. He emphasized that Peart was also a "kind, thoughtful, brilliant man who ruled our radios and turntables not only with his drumming, but also his beautiful words."
Co-founding Black Sabbath drummer Bill Ward evoked Peart's lyrics in Rush's "Red Barchetta" in a moving statement, posted Monday.
"What is left is a life's work to praise, converse about, to be in awe of, knowing the world is a better place for your triumphs," Ward wrote. "What you did in the moments you had, what you created, lends itself to the richness of life, and for those who embraced your passion and love, I believe we are better for it."
Heart's Nancy Wilson highlighted Peart's tremendous influence and called him "a magical cornerstone in the Temple of Rush."
Metallica's Lars Ulrich noted that beyond being a crucial influence, Peart was a generous friend who "took the time to talk to a young, green Danish drummer about recording, gear and the possibilities that lay ahead..."
Photo: Getty Images
Red Barchetta has become even more potent today after the news of your passing.

Our condolences to family members, friends, fellow musicians, and the fans. RIP Neil.

Love,
Bill Ward pic.twitter.com/YYFQoc13mG

— Bill Ward (@billwarddrums) January 12, 2020