Wendy Williams Slammed For Mocking Joaquin Phoenix's 'Cleft Palate'
By Peyton Blakemore
January 15, 2020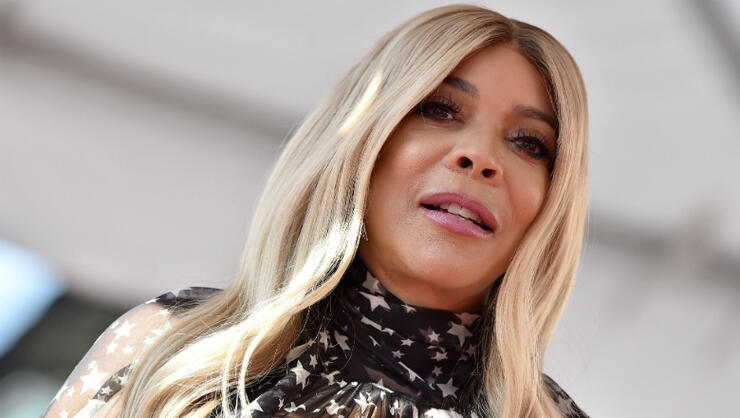 UPDATE (Thursday, January 16):
Wendy issued an apology on Twitter Wednesday (January 15), writing directly to Adam Bighill, who was born with a cleft lip and palate, has a son, Beau, who was also born with the condition, and was one of the first to call Wendy out for her comments. "@Bighill44 We're thinking about Beau today as he is in surgery," she began. "I want to apologize to the cleft community and in Beau's honor, our show is donating to @operationsmile and @AmerCleftPalate and encourage our Wendy Watchers to learn more and help support the cleft community."
--------------------------------------------------------------
ORIGINAL STORY:
Wendy Williams is under fire for her recent comments about Joker star Joaquin Phoenix.
During the "Hot Topic" segment of her talk show "The Wendy Williams Show" on January 7, Wendy said she found Joaquin "oddly attractive," adding that she even liked the actor's facial scar. "When he shaves off his mustache he's got a hairline fracture. He's got one of those — what do you call it? Cleft lip, cleft palate," the 55-year-old talk show said as she pulled her lip up with her finger to mock the condition.
While the Oscar nominee hasn't spoken publicly about his scar, in an October 2019 Vanity Fair profile about Joaquin, the outlet described it as "not a surgically fixed cleft, he says, but a nonsurgical scar he was born with."
Though Joaquin has yet to respond to Wendy's offensive comments, many parents and activists have slammed Wendy on Twitter.
"As Ambassador for Cleft Lip and Palate Association @CLAPACOMMUNITY I really am disgusted by this @wendywilliams .. Mimicing a cleft lip, and making a joke about it, is disgraceful. Have you any idea the pain and operations a child with cleft must go through as they grow? Please RT," best-selling author Carol Vorderman wrote.
Adam Bighill, a Canadian professional football player who was born with a cleft lip and palate, also blasted Wendy for her words, tweeting, "🤬🤬The comments made and actions made by @WendyWilliams regarding people with a cleft lip/ palate are just terrible! I will be making a post daily about this issue until she publicly apologizes and makes a charitable donation meaning. @CLAPACOMMUNITY."
The football player, whose son was born with the same condition, has kept his word, tweeting about Wendy daily, calling for her to issue an apology.
Even the Cleft Lip and Palate Association (CLAPA) responded to Wendy's comments on Twitter, writing: "CLAPA is calling on @WendyWilliams to issue a public, on air apology for her ignorant, offensive actions on her show this week, and to educate herself about the reality of cleft lip and palate around the world."
See more tweets below.
As Ambassador for Cleft Lip and Palate Association @CLAPACOMMUNITY I really am disgusted by this @wendywilliams.. Mimicing a cleft lip, and making a joke about it, is disgraceful. Have you any idea the pain and operations a child with cleft must go through as they grow? Please RT https://t.co/bINZItpWgI

— Carol Vorderman (@carolvorders) January 9, 2020
@WendyWilliams my daughter was born with a CLEFTLIP I pray daily that she is able to grow up knowing how beautiful god made her without having to hear comments from uneducated people like you I prayyou educate yourself and make an apology to the people you hurt #wendywilliams pic.twitter.com/ySUkFchVGu

— Adriane (@AdrianeMPillow) January 7, 2020
@WendyWilliams made the decision to mock people with facial differences, specifically cleft lips on her show. She did it not only once, but twice.

This choice was wrong, and hurtful. Wendy Williams needs to apologize to the cleft community. pic.twitter.com/VuzVYipVhL

— Alien Child Megan is Suffering 👽 (@megamindirl) January 8, 2020
Hey @WendyWilliams, a public apology to the cleft community is in order. Coming from the father of a beautiful son born with cleft lip/palate, if you had to experience what we have watching our son go through everything he has, you wouldnt be so quick to make fun of this. pic.twitter.com/OcnIcxJVzw

— Adam Singletary (@adam_singletary) January 8, 2020