Fan Favorite Character Creed Bratton Almost Wasn't In 'The Office'
By Emily Lee
January 16, 2020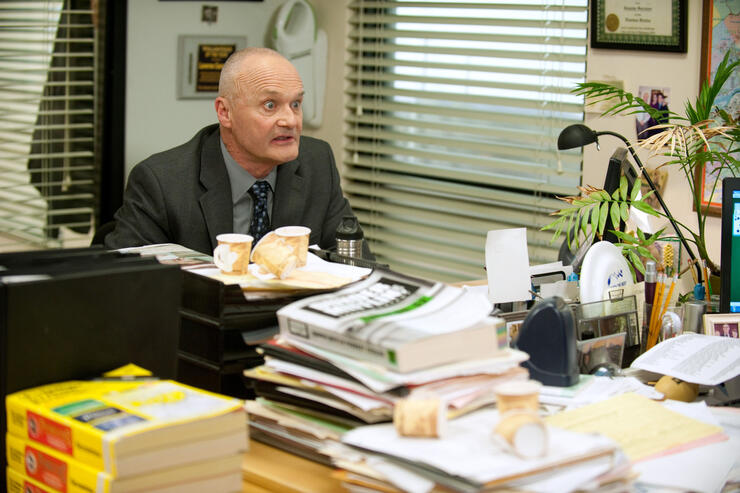 Who doesn't love The Office? It's one of those sitcoms that somehow gets funnier with every Netflix binge. With its many eccentric background characters, you can watch an episode you've seen multiple times and find something new to laugh at. One of those eccentric background characters, of course, is Creed Bratton. Though Creed became one of the most beloved characters on The Office over its 10 season run, the actor behind the character (also named Creed Bratton), revealed he was almost fired from the show after the second season.
During an appearance on his co-stars', Angela Kinsey and Jenna Fischer, podcast Office Ladies, which revisits every episode of the show, Creed spoke about his almost-firing for the first time. According to Creed, his character was almost given the boot from The Office during the second season's Halloween episode. The show runners filmed two scenes showing both Creed and another background character, Devon, getting fired from Dunder Mifflin. Creed was so hilarious in his scene, however, they decided they had to keep the character.
"Greg found out that Devon had a theater contract and that he was going to go on tour," Jenna, who played Pam Beesly on the show, explained on the podcast. Creed, however, added that the powers that be didn't actually decide which character would be fired until after those two scenes were filmed. "He told us, 'One of you guys is going to have to go, but we don't know yet. We're going to shoot you both and see how it works," he added. "I remember being a little nervous, and Devon and I were friends." 
Though Creed became a much bigger character over the years, this episode featured his first speaking lines. "I remember Ken threw the script down and said, 'OK here it is. This is your moment.' And I had memorized it forwards and backwards, I had set a timer on a little recorder and subliminally at two and three in the morning it would go off and play the lines while I was sleeping," he revealed. "No joke. I had it backwards and forwards. I knew this was the rubicon. My intuition said, 'this is it.'"
In the episode, Michael decides to fire Devon after his unsuccessful attempted to let Creed go. Thankfully, we got 8 more seasons with the hilarious character Creed Bratton.
Photo: Getty