MLB Found No Evidence Astros Used Wearable Devices In Sign-Stealing Scheme
By Bill Galluccio
January 17, 2020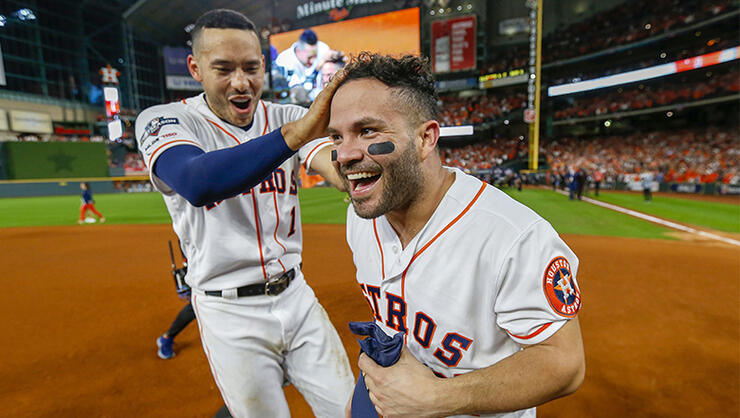 As Major League Baseball deals with the fallout following their investigation into the Houston Astros for stealing signs during their 2017 World Championship season, rumors have swirled about the tactics they used.
On Thursday (January 16), a Twitter account claiming to be the niece of Carlos Beltran, who was mentioned in league's report, said that the some of the Astros players taped buzzers on the inside of their jerseys, which would alert them when a certain pitch was being thrown.
Beltran's family told ESPN that the account was not affiliated with them in any way, and it has since been deleted. A few hours before making the accusations about the buzzers, it did accurately state that Beltran would be stepping down as manager of the New York Mets.
The fact that the claim was not made by a relative of Beltran didn't stop fans from looking for evidence that the Astros were wearing wires. Jimmy O'Brien, who goes by Jomboy on Twitter, found a screengrab of Josh Reddick, which appeared to show a piece of tape covering up a wire. He was forced to backtrack after another person pointed out it was likely confetti from the locker room celebration.
This picture does make it obvious it's confetti. Jumped the gun! Doesn't mean I don't believe what I've been told but this pic doesn't support it. My bad https://t.co/qiWkOeGXaZ

— Jomboy (@Jomboy_) January 16, 2020
Another video, taken after Jose Altuve hit a pennant-winning walk-off home run in Game 6 of the 2019 ALCS, showed the shortstop imploring his teammates not to rip off his shirt as he touched home plate. Some fans claim a single frame of the video shows a piece of tape underneath his shirt. Later, during an interview, he said he asked his teammates not to rip off his shirt because he is "shy" and that his wife got upset with him the last time they ripped off his shirt.
Altuve has denied wearing a device in a statement through his agent, Scott Boras.
"[Altuve] has never been involved in any information with the use of an electronic device that is triggered during the course of the game,'' Boras told the New York Post. "Fans need to keep in mind that there are a lot of players who are in the spider web, but they are not the black widow just because they are a member of the team or the league.''
Major League Baseball told New York Post columnist Joel Sherman that they "found no evidence to substantiate" the claims that the Astros players were wearing wires.
"[F]rom MLB with so much coming out publicly about Altuve HR to end ALCS and other incidents: "MLB explored wearable devices during the investigation but found no evidence to substantiate it." That investigation, MLB said, includes 2019."
While the Astros may not have used buzzers to give themselves an advantage, many players around the league are outraged over the cheating scandal. Retired Yankees pitcher CC Sabathia, who was on the 2017 team that lost to the Astros in the ALCS, did not mince words when he addressed the issue on his R2C2 podcast with Ryan Ruocco.
"F****** '17 we should have won the World Series. I don't care what nobody says. And now that this happened, nobody can ever f****** tell me that we wasn't gonna win it," Sabathia fumed.
"I felt it man, and I had got over it," he continued. "Let it go, got over it, and maybe like I was trippin', they were a better team. They won, they beat us. And then this came back and now I feel it again. I'm pissed! "I just felt that s*** in my bone. I knew that team in '17 was good enough to win the World Series."
Photo: Getty Images