Michelle Obama's 2020 Workout Playlist Features Lizzo, Cardi B & More
By Lauren Crawford
January 20, 2020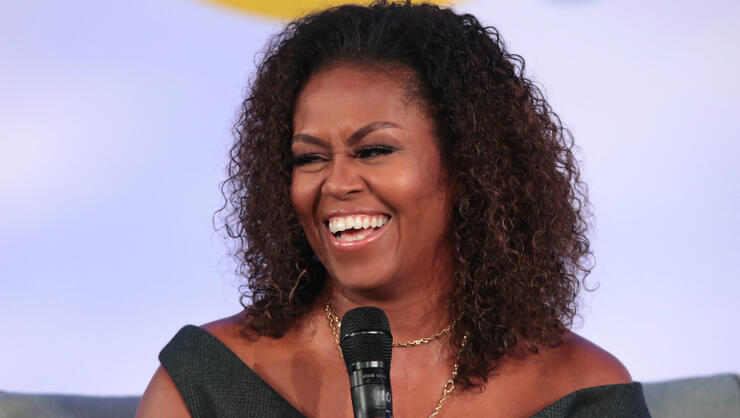 When it comes to Michelle Obama's workouts, she only plays the hits! Over the weekend, the former First Lady shared the go-to songs she listens to when she's working on her fitness.
"It's about that time when New Year's goals and resolutions get just a bit harder to stick to. To offer a little inspiration, I want to share my go-to 2020 #WorkoutPlaylist with all of you," she wrote on social media. "These songs always seem to give me that extra boost to get through my toughest workouts. What's on your playlist? #IAmBecoming #SelfcareSunday."
So what songs does Mrs.Obama listen to turn up in the gym? Well, she listens to a little gospel — "A God Like You" by Kirk Franklin — loads of hip-hop — "Hussle & Motivate" by Nipsey Hussle, "Apesh*t" by The Carters — some R&B — "Honesty" by Pink Sweat$, "Show Me Love" by Alicia Keys ft. Miguel — Pop, Afrobeats and more. (And as she noted, she only clean version of all of her tracks.)
Michelle additionally shared a list of songs she listens to for the "cool down" portion of her workout.
Check out her full 2020 Workout Playlist below.
As fans know, Michelle's husband, former President Barack Obama, shared a look at his tops songs of 2019 ahead of the New Year. "From hip-hop to country to The Boss, here are my songs of the year," he captioned a list of 35 songs. "If you're looking for something to keep you company on a long drive or help you turn up a workout, I hope there's a track or two in here that does the trick."
Check out his favorite tracks of 2019 below.