Sen. Maj. Leader Mitch McConnell Lays Out Rules for Trump's Senate Trial
By R.J. Johnson - @rickerthewriter
January 21, 2020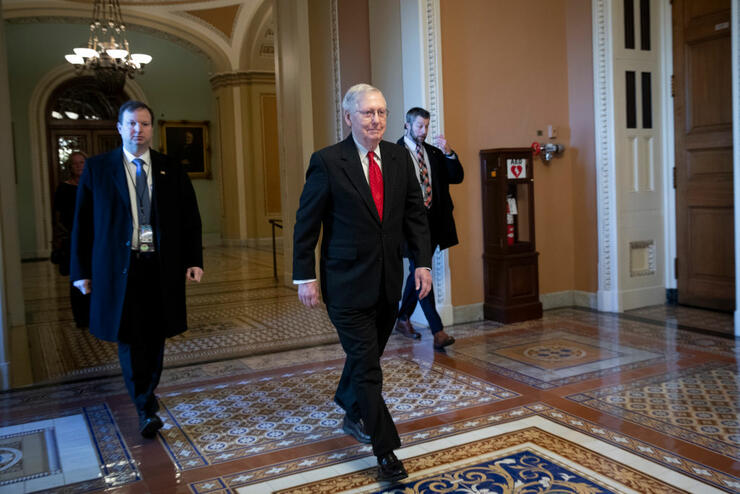 The Senate's impeachment trial of President Donald Trump begins in earnest this week as Senate Majority Leader Mitch McConnell has submitted an organizing resolution that would outline the rules governing the impeachment trial.
McConnell has allotted each side a total of 24-hours to present their case in President Trump's impeachment trial, however, the sides will be limited to three working days, according to the text of the organizing resolution, NBC News reports.
McConnell adjusted another provision that will now allow the evidence gathered as part of the House's impeachment inquiry to be automatically allowed into evidence for the Senate trial, unless there's an objection. A pro-active vote to enter the House's evidence into the record will no longer be required.
Arguments are slated to begin Wednesday at 1 p.m. according to the organizing resolution. Democrats have protested the rules, arguing that they make it difficult for the House managers presenting the case to the Senate to introduce evidence and will result in late nights. The resolution also allows for a vote on whether any witnesses will be called to testify.
According to the rules, the House impeachment managers who will prosecute the case against President Trump will deliver their arguments first. Then, Trump's defense team will be given center stage where they will have a chance to prove the president did "absolutely nothing wrong" in delaying military aid to Ukraine in exchange for a promise to investigate President Trump's domestic political rivals. Trump's defense team argued in a brief prepared for the Senate that Trump has been the victim of a partisan plot and deserved to be acquitted of all charges.
Once both sides have used their allotted 24 hours, the Senators will have 16 hours to present questions in writing about the impeachment. Once that phase is complete, the Senate will consider whether any witnesses, subpoenas or additional documents are needed.
The Senate would then vote on whether any witnesses will be called. Democrats would need the support of four Republican Senators for that to happen.
Should the Senate decide to call witnesses, the parties being subpoenaed would be subject to a deposition, and from there, "the Senate shall decide after deposition which witnesses shall testify" the resolution states.
"No testimony shall be admissible in the Senate unless the parties have had an opportunity to depose such witnesses," it adds.
Democrats have said they want Trump's former national security adviser, John Bolton, to testify about what he knew of the president's dealings with Ukraine.
The debate on the organizing resolution will be held at 1 p.m. ET.
Photo: Getty Images