Jennifer Aniston Surprised 'Friends' Fans On Central Perk Set
By Emily Lee
January 25, 2020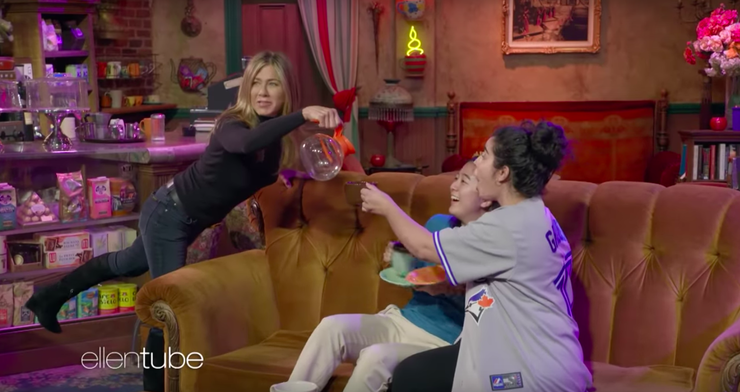 Jennifer Aniston has a new gig: guest hosting The Ellen Degeneres Show. While Ellen Degeneres had to run to the DMV to renew her license, Aniston stepped in to host the show in her absence. The Ellen Degeneres Show is known for its hilarious segments and Aniston was definitely up for the challenge.
During her guest hosting appearance, Aniston visited the Central Perk set from Friends to surprise guests taking the Warner Bros. Studios Tour. Fans of the beloved sitcom can sit on the same couch that Rachel, Monica, Phoebe, Joey, Ross, and Chandler did over 10 seasons and pose for photos. Aniston hid behind the couch, waited for the tourists to pose for their souvenir photos and then jumped out to surprise them. Their reactions will make you LOL.
Aniston starred as Rachel Green on Friends for 10 seasons and is clearly still happy to revisit the show from time to time. During an appearance on Jimmy Kimmel Live! a few years ago, Aniston participated in a skit about the '90s sitcom where she acted out a fan-fiction skit the host wrote.
Not only does Aniston gladly chat and joke about her time on Friends, she's even discussed a potential reunion series. The whole cast is reportedly teaming up for a revival at HBO Max, however, few details are known at this time. Whatever it ends up being, hopefully it's as hilarious as Aniston surprising fans at Central Perk.
Photo: Ellentube