Camila Cabello Performs Emotional Tribute To Her Father At Grammys 2020
By Emily Lee
January 26, 2020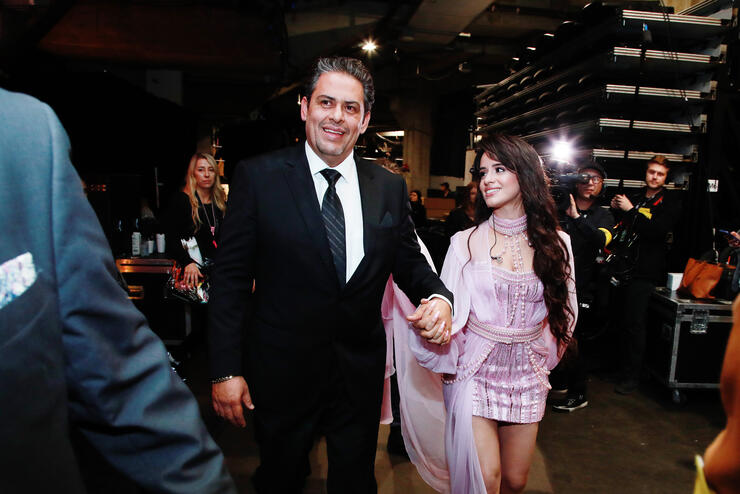 There wasn't a dry eye in the Staples Center on Sunday (January 26) after Camila Cabello took the stage at the 62nd Grammy Awards. The songstress dedicated her highly emotional performance to "a man she loves very much." While some fans hoped Cabello would be performing a ballad for Shawn Mendes, she actually sang 'First Man' from her new album Romance.
Cabello's track 'First Man' is all about the special bond she shares with her father. The lyrics tell the story of Cabello falling in love for the first time and thanking her dad for being the "first man to really love" her. Throughout her performance, home videos of Cabello with her father played in the background.
Making the performance even more special, Cabello brought her dad as her date to the Grammys. As the song began to wind down, Cabello made her way into the audience to embrace him. Not only was her dad wiping away tears, the camera caught Gwen Stefani getting caught up in the emotional moment, too.
Though Cabello's performance is surely one to remember, it was also a special night for the 22-year-old pop star. She was nominated for the Grammy award for Best Pop/Duo performance alongside Mendes for their song 'Senorita.' The award ultimately went to Lil Nas X and Billy Ray Cyrus for 'Old Town Road,' however, we're sure Cabello must be so happy she got to share the milestone with her dad by her side.
Photo: Getty
Chat About Camila Cabello Performs Emotional Tribute To Her Father At Grammys 2020