Flea, Paul Stanley, Tom Morello And Others React To Death Of Kobe Bryant
By Andrew Magnotta @AndrewMagnotta
January 27, 2020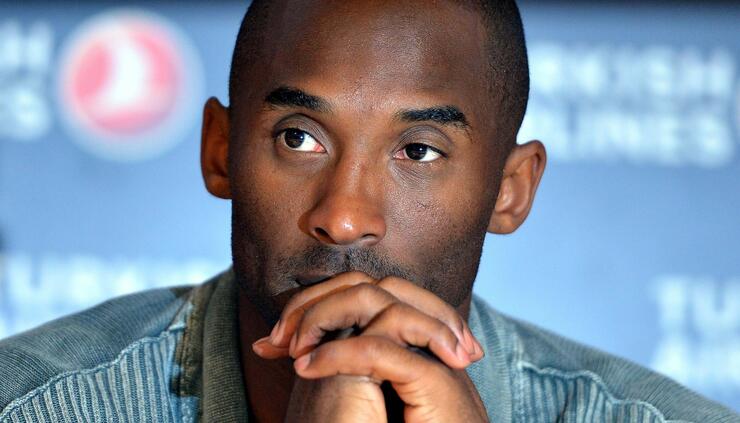 Basketball legend Kobe Bryant was among five people who died Sunday morning, January 26, in a helicopter crash in Calabasas, California.
While authorities investigated the deadly crash, the sports and entertainment worlds grappled with the tragedy.
In addition to being one of the most famous athletes in the world, over his 20-year NBA career with the Los Angeles Lakers, Kobe formed relationships with many of the team's rockstar season ticket holders.
Red Hot Chili Peppers bassist Flea is a lifelong Lakers fan, who once compared Kobe's creativity on the basketball court to the virtuosity of musicians like "Charlie Parker or John Coltrane or Jimmy Page" in an interview with Rolling Stone.
"I love you Kobe," Flea wrote in a Tweet sent Sunday afternoon.
"Such A Shock," added Kiss front man Paul Stanley in another Tweet. "My condolences to his wife and children. Very, very sad. #KobeBryant"
Rage Against the Machine guitarist Tom Morello referenced Kobe's world-famous competitive drive in an Instagram post.
"[I] had the good fortune to see him play many times," Morello wrote. "His unswerving commitment to greatness will continue to inspire generations to come. Goodnight, Champ. #Kobe"
The Band guitarist Robbie Robertson noted how important Kobe is to Southern California.
"As a longtime Angeleno, Kobe was a huge part of our lives," he wrote via Twitter. "A true warrior and legend. Blessing to his friends and family. Devastating."
Rick Springfield echoed the same sentiment, following the news that Kobe's 13-year-old daughter Gianna was also among the dead.
"His greatness was such a big part of out lives," Springfield wrote. "It's devastating. May his and Gianna's spirits soar. Love and peace to the Bryant family.
Pat Benatar and Neil Giraldo added that they were "heartbroken" for Kobe's wife and surviving daughters, "Love and healing light during this time of unimaginable tragedy."
In another remembrance, John Fogerty shared a photo of his own daughter posing with Kobe in the '90s.
"We are thinking of his family and everyone affected by this unimaginable tragedy," Fogerty wrote.
Former Guns N' Roses guitarist Matt Sorum, Bret Michaels, Extreme's Gary Cherone , System of a Down's Shavo Odadjian, Sevendust's Clint Lowery and Living Colour's Vernon Reid were among many more who offered their condolences and prayers.
Shinedown's Zac Myers recalled the "surreal" moment Kobe gave him his sneakers from a game in Memphis during the 18-time all-star's final season.
"Being such a fan of great basketball, this is so hard to process," Myers wrote.
Reid noted that Sunday was a "Bad day for the nation."
#RIPKobeBryant