Nicki Minaj & Her Husband Get Into Heated Shouting Match With Meek Mill
By Paris Close
January 26, 2020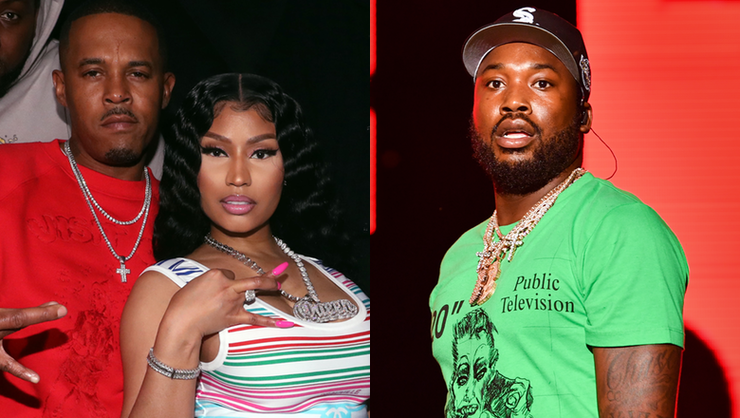 Nicki Minaj's husband Kenneth Petty and Meek Mill nearly came to blows this week.
Minaj and Petty had an intense run-in with Mill and his crew on Friday (January 24) that led to an all-out screaming match between the two sides. According to TMZ, who obtained footage of the incident as it went down, the couple were shopping alone at the high-end clothing store Maxfield in West Hollywood, where she happened to encounter her rapper ex-boyfriend, who was rolling 10 deep with his posse.
Next thing you know, the fellas exchanged insults — Petty can be heard calling Mill a "p—y" in the clip, as Mill answers back with the same — before security got involved. No one knows what started the commotion between the two, but the celebrity gossip outlet indicated Petty and Mill's argument was about — you guessed it — Minaj. Obviously the "Chun-Li" lyricist sided with her hubby, even hurling the B-word at her former flame before things came to a head.
For context, sources involved claimed the "24/7" emcee was already at the store when Minaj and Petty allegedly approached him. It was also implied Petty had initiated the screaming match, and refused Mill's offer to chop it up in private. What's more, one insider said Mill initially wanted to keep things from escalating, telling TMZ: "He's just happy he's in a much better place, personally and professionally, than he was back when he and Nicki were dating."
See video footage of Nicki and Kenneth's shouting match with Meek below.
Photo: Getty Images
Video: TMZ
Chat About Nicki Minaj & Her Husband Get Into Heated Shouting Match With Meek Mill