Ryan Seacrest, Diplo & More Stars Mourn Kobe Bryant on Grammys Red Carpet
By Sierra Marquina
January 27, 2020
The tragic and shocking news of Kobe Bryant's death came just hours before the 2020 Grammys on Sunday, January 26.
The legendary athlete and his 13-year-old daughter, Gianna, along with 7 other people, were aboard the Lakers player's helicopter when it crashed in Calabasas, California, while en route to the Mamba Sports Academy in Thousand Oaks, California. Authorities have yet to release the identities of the remaining passengers but it's been reported that Orange County baseball coach John Altobelli and his wife and daughter were among the victims.
Ryan Seacrest addressed the tragedy that shook the Los Angeles community and fans around the world on Sunday on the Grammys E! red carpet, which was held at Staples Center, home of the Los Angeles Lakers.
"We are starting the show on a very somber note," Seacrest began the coverage. "We want to take a moment to say we are deeply saddened by the passing of Kobe Bryant, his daughter Gianna, and the others aboard the helicopter which tragically crashed today in Calabasas, California. … Kobe was 41 years old and was one of the greatest basketball players and greatest athletes to ever live. His loss will be felt even more deeply tonight at a place he considered home. This is the Staples Center. We're sending our heartfelt condolences to his beloved wife and the family he left behind. His absence will be felt by so many people that he touched."
"I didn't believe it at first," Diplo told Seacrest as he made his way into the awards show. "I still don't believe it. … I can't imagine losing one of my children … and to be here at Staples right now … someone like that, he transcends iconic … he'll live forever."
Smokey Robinson also commented on the athlete's tragic passing.
"It is a very difficult day," the songwriter and producer told Seacrest. "Very solemn day. … We're here celebrating music and here this comes — horrible. … I just hope we can celebrate and everyone can be — I know it's going to be somber — but I just want to celebrate [the music]. … As a dad there is nothing you can do; it's rough, but we're going to have a good time."
H.E.R. acknowledged Bryant's famous work ethic. "Kobe inspires me," she told Seacrest. "And kind of gives me motivation because of his drive and how hard he works."
DJ Khaled also admitted it was "hard to even talk about it" and he hopes to pay homage to the icon, who will be honored during the awards show which will be hosted by Alicia Keys.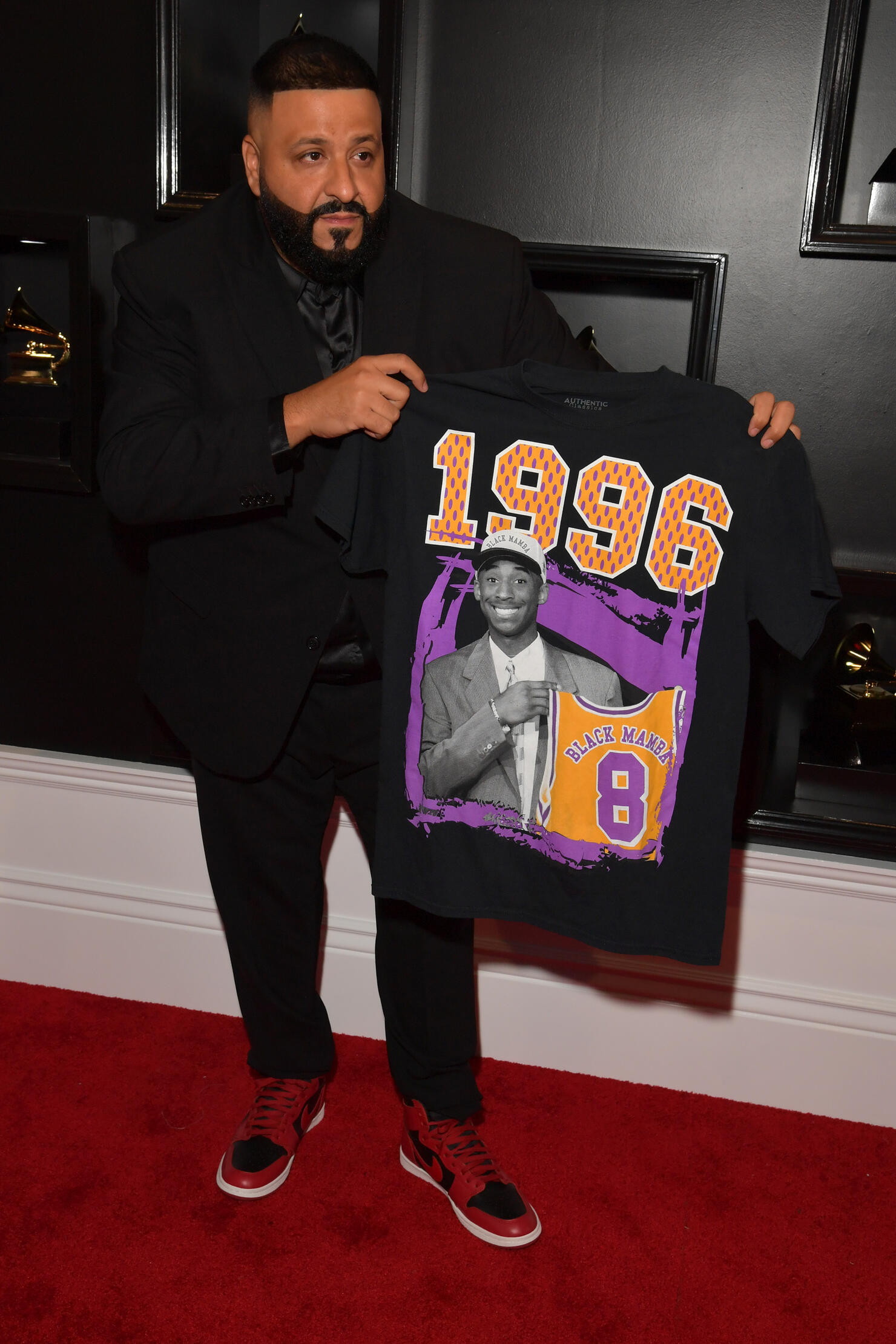 Common was also visibly affected by the devastating news, telling Seacrest that he was doing his "best to just give it to the creator" and that his heart goes out to Bryant's family and the rest of the victims' families.
"We all feel it," Common added. "I'm just giving it to God and … I just want to say God bless his soul and his daughter and everybody that was on that helicopter."
Read more tributes to Kobe from his teammates, friends and fans here.
(Photo credit: Getty Images)