Bad Bunny Honors Kobe Bryant On New Tribute Song '6 Rings'
By James Dinh
January 28, 2020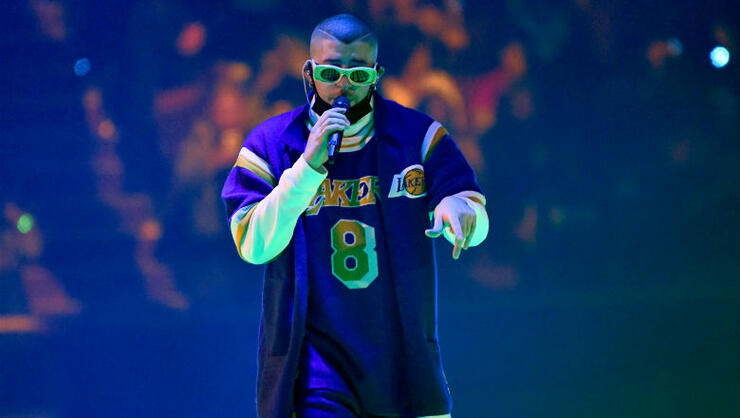 Bad Bunny pays tribute to the late, great Kobe Bryant on his new song, "6 Rings," which dropped a day after the former Los Angeles Lakers shooting guard died on Sunday (January 26).
On the somber two-minute new track, which features audio from from Bryant's legendary 81-point game against the Toronto Raptors, the Puerto Rican singer/rapper digs deep to passionately sing about his admiration for the NBA giant. "Sometimes I wonder if I do well at respecting the commandments/ And where is God 'stuck' at right now?/ I know life is short, like a story," he opens the track in Spanish. "And in a blink the wind takes them/ I still remember the first game of yours I witnessed/ A thousand emotions, many times you had me stand up."
Its title refers to Bryant's five championship rings, as well as his wedding ring to wife Vanessa. "And congratulations, you also won six rings/ Five in the NBA and a marriage that gave you your daughters/ Thinking that one went with you, I get out of control/ But nah, that's for you to not play alone in heaven/ More than 81 reasons to admire you."
Over on his Instagram account, Bad Bunny admitted that he never imagined that the death would "hurt [him] so much." "I would never have imagined that this would hurt me so much!" he wrote in a post. "I still remember the first time I saw a basketball game, at age 7 with my dad, and it was a game of this genius. From that day on he became my favorite player forever!! I have never mentioned it because it does not necessarily have to do with music, but this man has been an inspiration in many ways for me to be what I am today."
The former Los Angeles Laker's life was cut short after his helicopter crashed in Calabasas, California on Sunday (January 26), killing all nine passengers on board, including his daughter Gianna. Bryant was 41. They are survived by wife Vanessa, as well as his children, Natalia, 17, Bianka, 3, and Capri, 7 months.
Chat About Bad Bunny Honors Kobe Bryant On New Tribute Song '6 Rings'