Watch Late Night Hosts Honor Kobe Bryant With Highly Emotional Monologues
By Emily Lee
January 28, 2020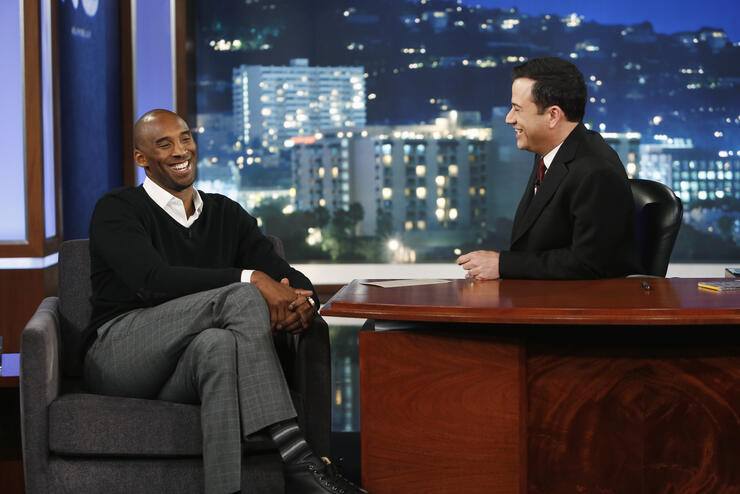 Late night talk show hosts, including Jimmy Fallon to James Corden, dedicated their Monday (January 27) to Kobe Bryant. The 41-year-old NBA legend tragically passed away on Sunday (January 26) in a helicopter crash, along with his 13-year-old daughter Gianna and seven others. Many of the hosts remembered Bryant with tears in their eyes and shared some of their favorite moments with the former Laker with viewers. Here's a roundup of all the highly emotional tributes.
Jimmy Kimmel Live!:
Jimmy Kimmel didn't just dedicate his opening monologue to the late NBA star. Instead of memorializing Bryant at the start of his show, Kimmel dedicated his entire 40 minute run on Monday evening to Mamba. "We don't have a studio audience tonight because going through with a comedy show didn't feel right after what happened yesterday," Kimmel explained. "There's no silver lining here. It's all bad. It's all sad. He was a bright light and that's how I want to remember him."
Kimmel informed viewers that Bryant had appeared on his show 15 times over the years. Over the course of Monday's episode, Kimmel aired a number of clips from Bryant's many appearances on the show, including his most recent interview from September 2019.
The Tonight Show Starring Jimmy Fallon:
With tears in his eyes, Jimmy Fallon opened The Tonight Show Starring Jimmy Fallon by sharing a heartwarming anecdote about Bryant. When Fallon was a 21-year-old stand up comic trying to make it in Los Angeles, he met a 17-year-old freshman Laker named Kobe Bryant at a party. The pair hit it off and ended up doing a beer run together. The store they drove to ended up being delivery only and refused to sell them alcohol until Bryant flashed his ID and said, "I'm a Laker." They left the store with 5 cases of beer.
"And when we'd run into each other over the years, we'd laugh about that night that we first met," Fallon added as he became visibly choked up. "And we'd laugh at all the good things that happened since."
Conan:
Conan O'Brien opened his Monday evening show with a supercut of Bryant's funniest moments during his appearances on Conan over the years. "He was naturally very funny and charming, he really was. Terrific guest," O'Brien recalled. "Whenever he was on our show, he was a joy to talk with and he always had the audience in the palm of his hands. That's the guy I've been thinking about these past 24 hours."
The Late Late Show with James Corden:
While Kimmel and Conan's shows air in Los Angeles—and as Fallon pointed out in his monologue, the Tonight Show host spend time in L.A. early in his career—Corden was born and raised in England and wasn't caught up in Lakers basketball culture as much as his fellow late night hosts. Still, though, Corden spoke to Bryant's universal appeal."There are some athletes that transcend their sport before you ever get a chance to see them play," he told his live studio audience. "And Bryant was one of those athletes."
Ellen Degeneres also took time to pay tribute to Bryant during her daytime talk show on Tuesday (January 28) and encouraged all of her viewers to be kind and appreciate every day you have.
Photo: Getty
Chat About Watch Late Night Hosts Honor Kobe Bryant With Highly Emotional Monologues