The Greatest Debates The Best Beefs In Sports History
By Diana Brown
January 30, 2020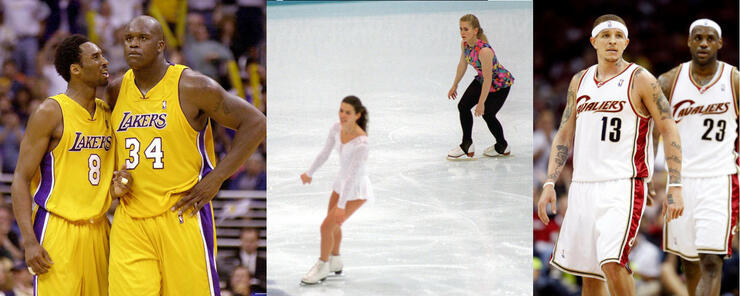 Gather round, sports fans, it's time to hear about The Greatest. Hosted by diehard sports lovers, writers, and comedians C.J Toledano and Megan Gailey, this podcast focuses on the G.O.A.T.s of sports, debating the greatest players, teams, games, seasons, and even movies. On this episode, they team up with comedian Anthony Jeselnik to talk about the greatest beefs in sports history, pitting Tonya Harding v. Nancy Kerrigan against Pete Rose v. Major League Baseball against LeBron James v. Delonte West to figure out which is the ultimate feud, sharing great stories about Dock Ellis's LSD no-hitter, when Anthony's sister dated the only Pittsburgh Penguin who didn't party, and the "feel-good" beef between Reggie Miller and Spike Lee.
Turns out, the greatest debate on the entire episode is what actually constitutes a "beef." One of C.J.'s favorite beefs was when Delonte West slept with LeBron James's mother – which many fans thought was probably the reason the Cleveland Cavaliers lost to the Boston Celtics in the 2009/2010 playoffs – but says though it was a messy situation, no one involved was publicly vocal. And, Anthony points out, "Delonte West has fallen so far that it can't really be a beef. Once you're begging for change it's like, LeBron won." Megan says the entire Major League Baseball organization has a beef with Pete Rose, because although he's "obviously one of the greatest baseball players of all time," they refuse to put him in the Hall of Fame because he placed bets on his own team. But it's not really a beef because Pete "handled it terribly," Anthony says. Though he thinks Pete's time, as well as Barry Bonds' and Roger Clemmons' time, will come. "I think that they'll have to do something about the steroid era," because, after all, everyone was juiced up, "so it was an even playing field for everyone!" 
C.J. and Megan agree that Tonya Harding and Nancy Kerrigan is probably the greatest beef of all time, since it captured national attention and catapulted them both to a level of fame that even their athletic talent couldn't achieve, but Anthony makes a strong case for the feud between Kobe Bryant and Shaquille O'Neal: "The fact that Shaq literally did a rap on camera asking Kobe how his a** tastes is so unbelievable to me," he says. "I just couldn't believe that someone of Shaq's stature, who's in every commercial...said that in a rap he made up and then people moved on with their lives." 
Listen to the episode to hear more about the greatest beefs in sports history, why Shaq has been called "our Krusty the Clown," and how important it is to disconnect your Bluetooth devices, only on The Greatest. 
If you want to be sure you're listening to the podcasts everyone else is checking out, iHeartRadio has you covered. Every Monday, iHeartRadio releases a chart showing the most popular podcasts of the week. Stay up to date on what's trending by checking out the chart here. There's even a chart just for radio podcasts here, featuring all your favorite iHeartRadio personalities like Bobby Bones, Elvis Duran, Steve Harvey and dozens of others.
Photo: Getty Images