Brad Pitt Joked About Prince Harry To Prince William & Kate Middleton
By Emily Lee
February 3, 2020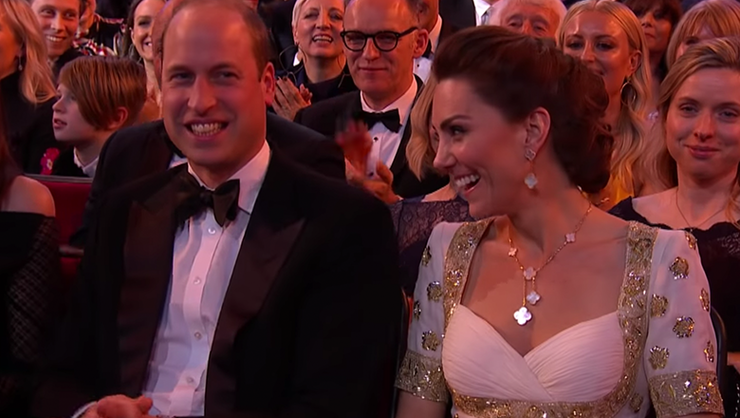 The British Academy Film and Television Arts Awards (BAFTAs) were held on Sunday (February 2) in London. While most Americans were busy watching the Super Bowl, they were missing out on an epic royal roast happening courtesy of Brad Pitt. The Once Upon a Time in Hollywood actor won the awards for Best Supporting Actor and his acceptance speech was full of LOL-worthy moments, including a jest about Prince Harry and "Megxit."
Unfortunately, Brad was unable to attend to BAFTAs due to "family obligations" so his Once Upon a Time in Hollywood co-star Margot Robbie accepted the award on his behalf. "[Brad] asked me to read his response for him," Margot told the audience, which included Prince William and Kate Middleton. "He starts by saying, 'Hey Britain. Heard you just became single. Welcome to the club! Wishing you the best for the divorce settlement, blah blah blah.' He then says, 'Thank you to the Academy for this extreme honor.' He says he's 'always been a bit intimidated over here given the Royal Academy of Dramatic Arts and the titans that have come before, so this is especially meaningful.'"
Brad saved the best joke for last, of course. Margot told the crowd: "He's gonna name this Harry, because he's really excited to about bringing it back to the states with him." The cameras then cut to William and Kate for their reactions. While William looked like the grimacing face emoji in a tux, Kate was actually laughing pretty hard. Before exiting the stage, Margot made sure to say the joke were "his words not mine."
You can watch the hilarious moment below. You can jump right to the 1:55 second mark to catch William and Kate's reaction to the royal drama reference, too.