RuPaul & Cecily Strong 'Sissy That Walk' In 'SNL' Promo
By Hayden Brooks
February 5, 2020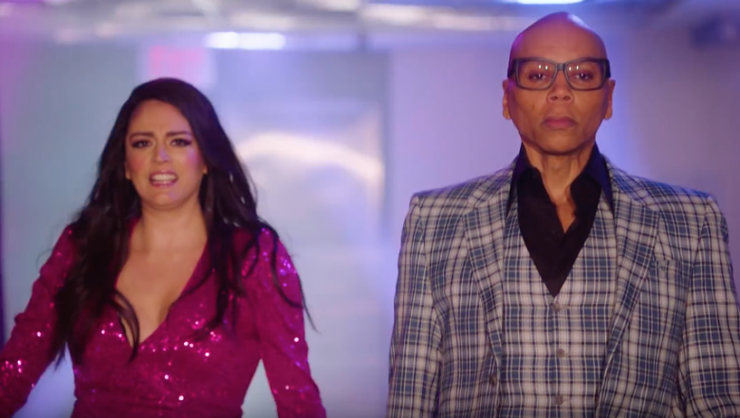 RuPaul is set to take over Saturday Night Live this weekend and he's likely going to encounter some serious Drag Race superfans like castmate Cecily Strong.
In a new promo ahead of the upcoming episode, Cecily is seen lurking in the hallways of Studio 8H, only to surprise Ru as he walks out of the elevator. Decked out in a sparkling pink dress, Strong tells the host that she's simply escaping "the drama" of writing night, but she gets more than just an escape. She gets the opportunity to "Sissy That Walk" as done in the long-running VH1 reality show. Strong does her best, but she's no match for Ru. At the end of the hallway, they're met with fellow castmate Beck Bennett, who is seen eating pizza that he claims was left to him by last weekend's host, J.J. Watt. "What's a J.J. Watt, baby?" Ru asks, before Bennett responds, "J.J. Watt's a guy!" Strong was previously a guest judge and acting couch on the fourth season of Drag Race: All Stars.
Expect more Drag Race references when Mama Ru conquers the long-running NBC sketch show with musical guest Justin Bieber. Scroll on below to see the promo in full!
Photo: YouTube/Saturday Night Live
Chat About RuPaul & Cecily Strong 'Sissy That Walk' In 'SNL' Promo