Black Crowes' Rich Robinson Denies He Turned Down Jimmy Page Collaboration
By Andrew Magnotta @AndrewMagnotta
February 6, 2020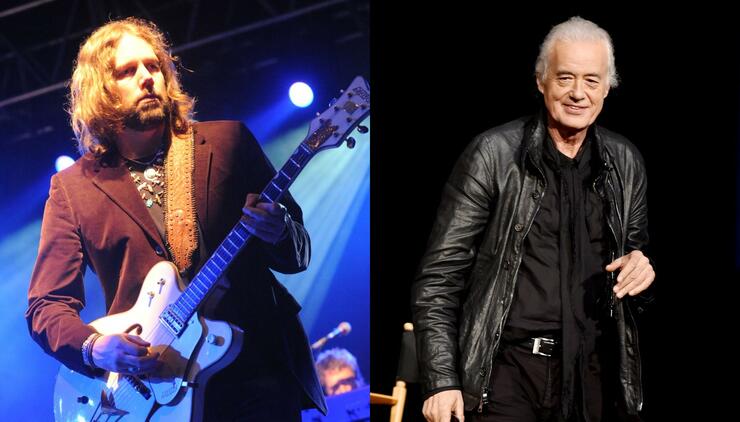 Black Crowes guitarist Rich Robinson says there's no truth to the story that he turned down an offer to collaborate with Jimmy Page.
Co-founding Black Crowes drummer Steve Gorman recalls the interaction in his memoir, Hard to Handle: The Life and Death of The Black Crowes, and has repeated the story in interviews.
Robinson responded to his longtime bandmate, telling Classic Rock magazine that the story is "Absolutely not true."
"I remember having conversations with Jimmy, telling him: 'Hey, if you ever wanted to make a record or do anything, I would love to help in any way I can.' Jimmy's a brilliant musicians, a brilliant person. I loved playing with him."
After becoming a phenomenon in the early-'90s, The Black Crowes got another break later in the decade when they toured with the Led Zeppelin icon Page.
Page abruptly left the tour after 11 shows in 2000, citing back problems. But as Gorman tells it, a year later he got the real story: Page offered to write songs with the Robinson brothers for their next album, but Rich responded by saying, "No thanks! ... We don't need more songs."
Page was so insulted he called the Crowes' manager and quit immediately.
But Rich says he was never so cavalier.
"Jimmy Page wants to write songs for me, and I'm gonna say: 'You know what, Jimmy? Led Zeppelin was all right, but I'm not gonna do it?' It's the most absurd thing I've heard in my life."
Gorman is not involved in the Robinson's Black Crowes' reunion. His last shows with the band were in 2014, just before Chris Robinson broke up the band by demanding 75 percent of all the revenue — a story Rich has since confirmed.
Get all the Black Crowes tour dates here.
Photo: Getty Images
Chat About Black Crowes' Rich Robinson Denies He Turned Down Jimmy Page Collaboration