Vanessa Bryant Shares Photos, Videos From Gigi's Jersey Retirement Ceremony
By Peyton Blakemore
February 6, 2020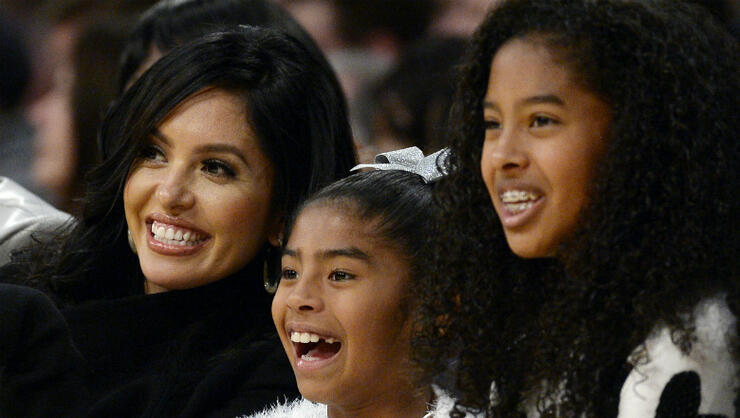 Vanessa Bryant shared a series of heartbreaking photos and videos from her late daughter Gianna "Gigi" Bryant's jersey retirement ceremony on Wednesday (February 5).
"My Gianna. God I miss you," the 37-year-old captioned an Instagram photo taken in Gigi's school gymnasium. "I've been so lucky to have woken up to see your gorgeous face and amazing smile for 13 years. Wish it would've been until my last breath. Mommy loves you to the moon and back. Infinity plus 1. #2 #Mambacita #GigiBryant ❤️."
Vanessa then shared a series of photos and images of Gigi's former classmates and teachers honoring the late teen with heartfelt speeches and musical tributes.
In one video, basketball coach Joshua Parks spoke of Gianna's worth ethic, saying, she "definitely represented the 'Mamba Mentality' every time she stepped on the floor." The 13-year-old's former adviser and music teacher Yunga Webb described Gianna as "one of the most humble people I've ever known." Gianna's former teammates and classmates also paid tribute to her by singing a rendition of Maroon 5's "Memories."
Vanessa additionally shared a photo of Gianna's framed jersey with the caption, "My Gigi. I love you! I miss you. You've taught us all that no act of kindness is ever too small. Mommy is still and will ALWAYS be so proud of you mamacita. ❤️#2 🏀."
Gianna, her father Kobe Bryant, and seven others —John Altobelli, Keri Altobelli, Alyssa Altobelli, Sarah Chester, Payton Chester, Christina Mauser, and the helicopter's pilot Ara Zobayan — died in a helicopter crash in Calabasas, California on January 26. The nine passengers, who were parents and players from the Mamba Sports Academy girls' team, were on their way to a youth basketball game in Thousand Oaks.
While the crash remains under investigation, reports suggest that heavy fog was to blame for the accident.