Lizzo Shares Sexy Beachside Bikini Pics, Calls Herself A 'Roll Model'
By Peyton Blakemore
February 8, 2020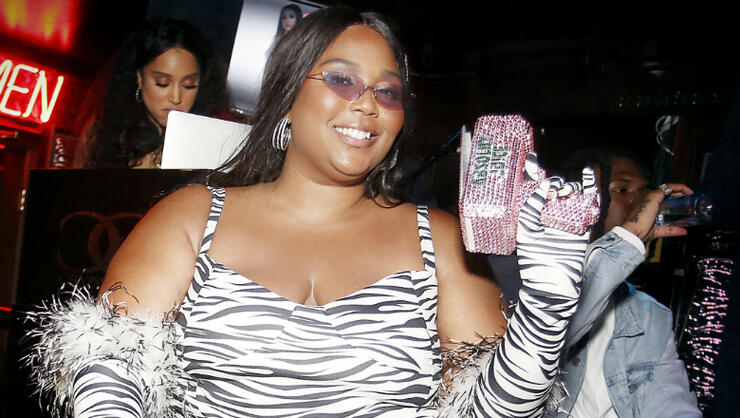 Lizzo is living her best life in Rio de Janeiro!
To kick off the weekend, the "Truth Hurts" singer shared a series of sexy photos of herself in an orange bikini while having some fun in the sun in Brazil on Friday (February 7).
"Roll Model," she captioned the Instagram Series that first showed her standing with her feet in the sand as she played with her hair. In the second shot, Lizzo turned her back to the camera to put her booty on display as a wave crashed into her legs. The third and final photo, my personal favorite, showed Lizzo standing in a power stance as she held her head up high, looking at the sky, with her hand on her hip, and simply let her beautiful curves do the talking.
Prior to her sexy bikini photoshoot, Lizzo put her derrière on display while posing in another swimsuit, but this time in a pool. "Views from Brazil 🇧🇷," she captioned the sexy shots, which you can check out HERE.
Lizzo's Brazil trip came just after she announced that she will be performing at the famed Houston Rodeo on March 13.
"Y'all don't understand how BIG this is for a girl from alief... WE PLAYIN THE HOUSTON RODEO HO!!!" she captioned a hilarious video of her riding a mechanical bull as she announced the news. "I REMEMBER SEEING BEYONCÉ HERE NOW WE IN THE BUILDING 😱🤯🥳 TIX ON SALE FEB 6th! AAAAHHHHH!!"
The Houston-native added, "Disclaimer: no animals were harmed in the filming of this promo video, I would never hit a live animal. Ever."
Chat About Lizzo Shares Sexy Beachside Bikini Pics, Calls Herself A 'Roll Model'